It's important you choose the proper integration method to embed the widget on your website. These methods describe the processes used to access and display artworks with the ArtPlacer Widget. Artworks can be accessed directly from the ArtPlacer database or they can be accessed dynamically from wherever you specify.
Installing the ArtPlacer Widget for one or just a few artworks is really easy. It comes down to generating a code in the Widget Generator and copying and pasting it into your website a few times. We have named this integration method ArtPlacer Artworks.

When you want to generate a code that will work for 10, 100, 1000 or any number of artworks, a Dynamic Integration works better. The code generated is copied and pasted just once into your website and it works for all the artworks in your catalog. This method may require some minor programming skills.
Below is a description of each of these methods.
Dynamic Integration
Allows you to show the artwork on your page automatically, using HTML or JS. This option is recommended for websites using Product Pages and large catalogs.
It works by allowing the widget to specify an artwork image URL at runtime. You can specify a URL dynamically from your website (requires minor programming skills) or you can specify a fixed URL. You will learn more about this in our Code section.
ArtPlacer Artworks
Allows you to select one of your artworks previously uploaded to the Artworks section of your ArtPlacer Dashboard. A piece of code is generated for each of the artworks to work with the widget. This option is recommended for websites with small catalogs or without a Product Page.
When using this method to generate a Client Room type widget you are presented with two additional fields: Price and Size. Please note that these two fields are just textual descriptive fields to be presented to the visitor when in the intermediate screen to upload a photo of their room.
Here is a sample screen of the ArtPlacer Widget Generator with the Price and Size descriptive fields: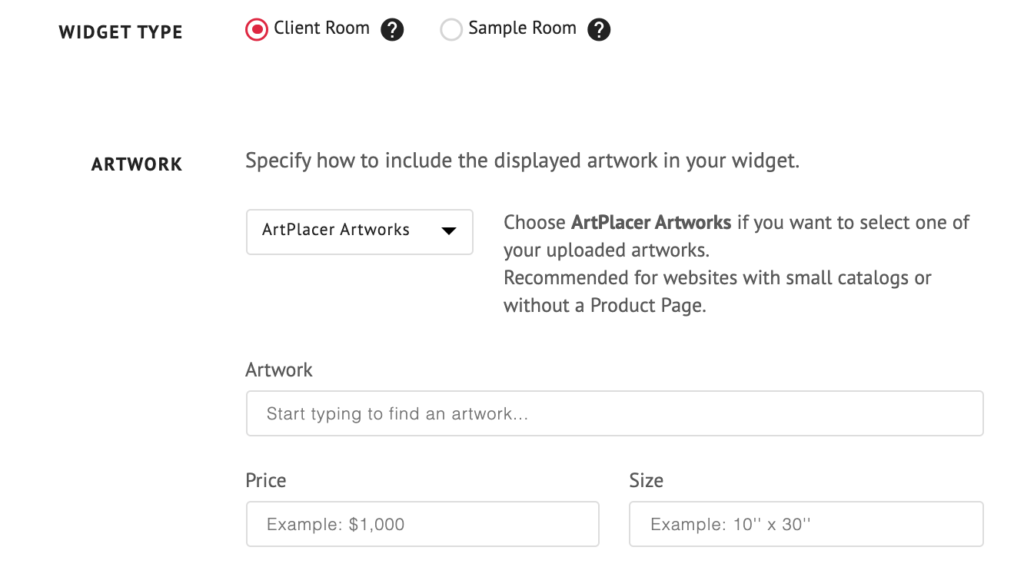 And here is what the ArtPlacer Client Room Intermediate pop-up would look like with the Size and Price attributes completed: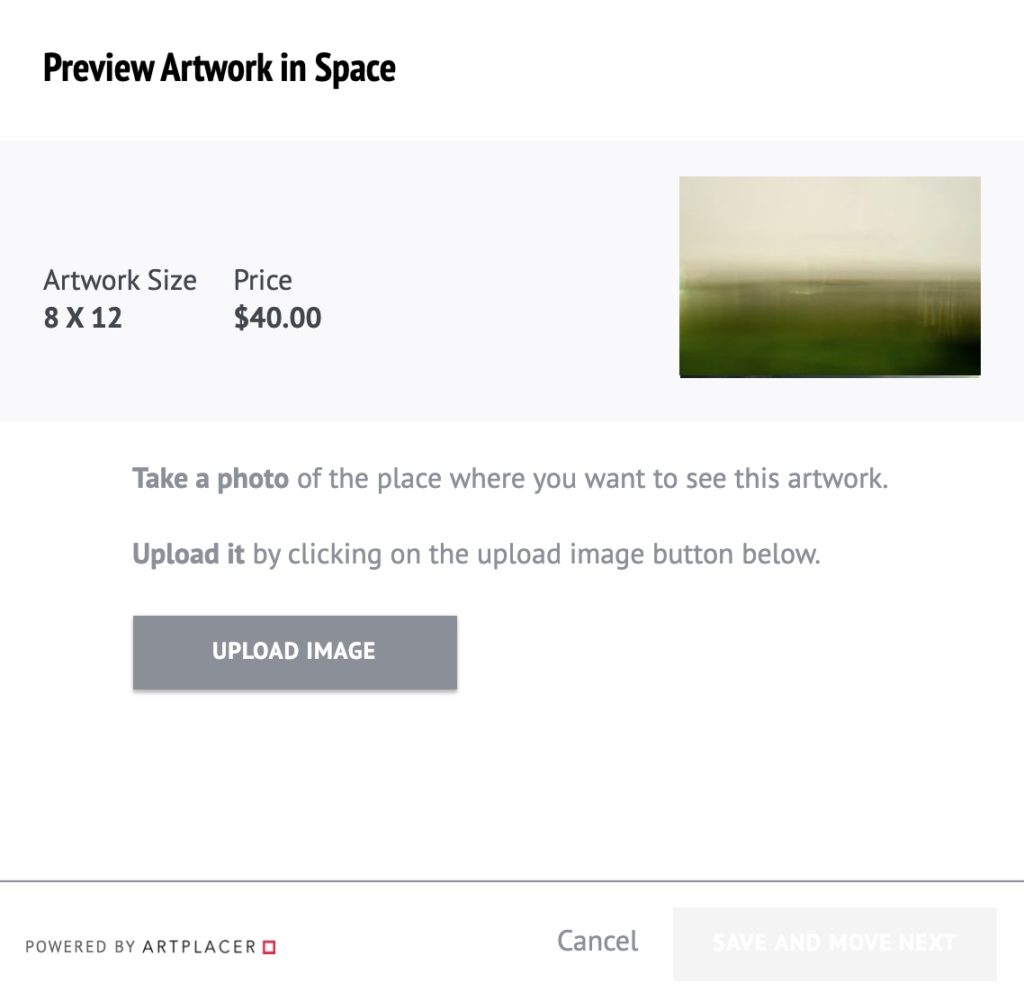 Not Specified
Leaving this field as Not Specified will open the ArtPlacer Widget pop-up without displaying any artwork on the walls but will automatically display a list of artworks uploaded to the ArtPlacer Artworks page in your dashboard. This list can be filtered by entering the specific collections in the Collections field under Settings.