For Galleries & Art Businesses
Your marketing and sales ally
Find all the tools to increase the reach of your art business and maximize your online sales in one place.
Artwork by Dasha Pears
dashapears-art.com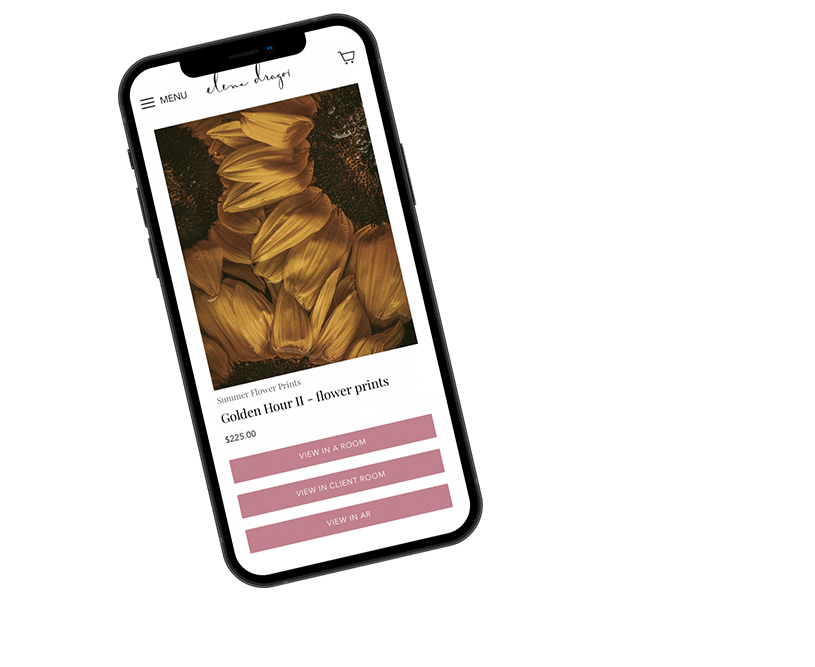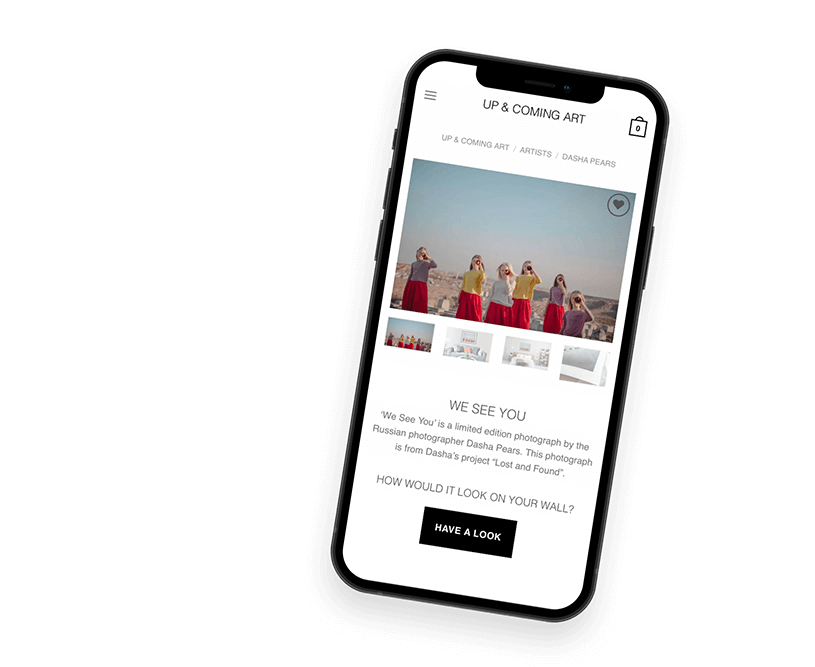 Engage your visitors further
The ArtPlacer's website integrations have become a vital part of hundreds of art galleries' digital strategies. We help you enrich your visitor's experience with an immersive view of your artworks collections.
Your visitors will enjoy the augmented reality interaction and the visuals created with our tool. Integrate once for your whole catalogue or select particular collections if you want the buttons to only appear in some pages.
Easily embed the code in all main platforms. If your website is built on Shopify or WordPress look for the ArtPlacer Plugin to help you implement the widget in just a few minutes.
Get a deeper understanding of your user's interests and behavior with Analytics. Easily access data like the number of clicks on artworks or your audience's segmentation. Track your art marketing efforts and measure your return on investment.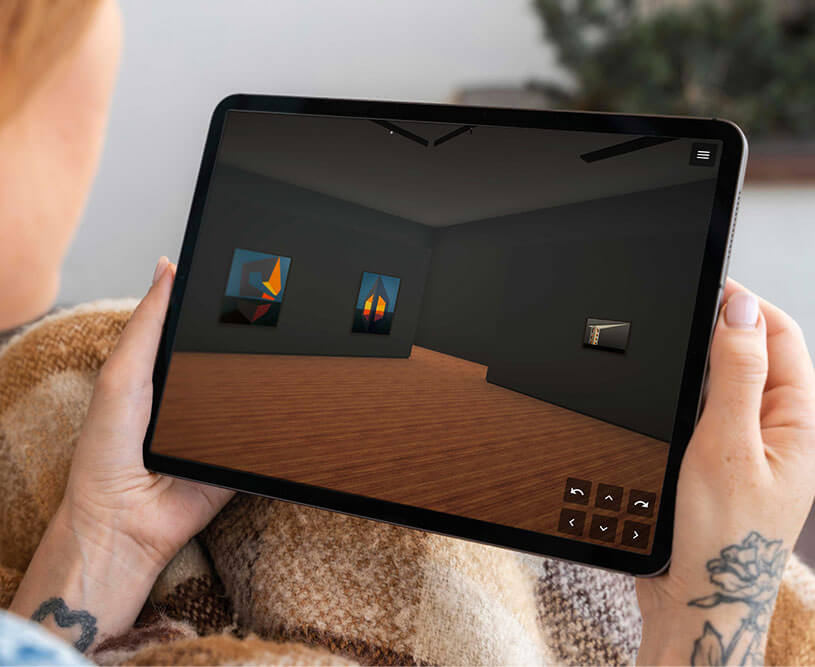 Create private shows or world-wide online events
ArtPlacer's intuitive interface enables you to create 3D, navigable shows, in minutes. Create private online shows and invite your contacts to an exclusive online viewing experience of your new collection. Or go big by hosting a public exhibition on your site, available to a worldwide audience. Artworks, NFTs and videos are supported!
ArtPlacer Virtual Exhibitions drive collector engagement and help visitors explore new pieces and rediscover existing works. Direct access to the Inquire and Buy buttons delivers an increase in conversations and sales. All these art marketing efforts can be easily tracked from the Analytics dashboard.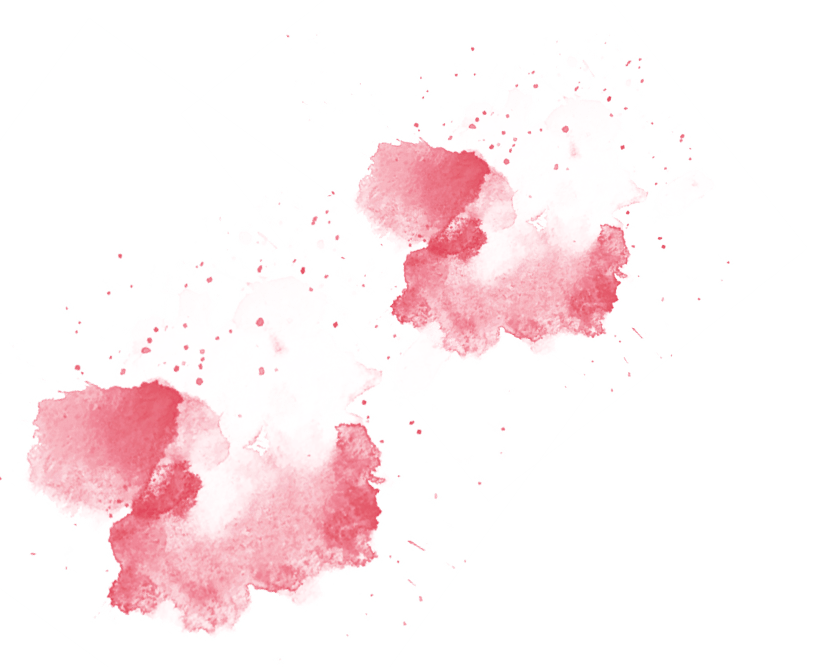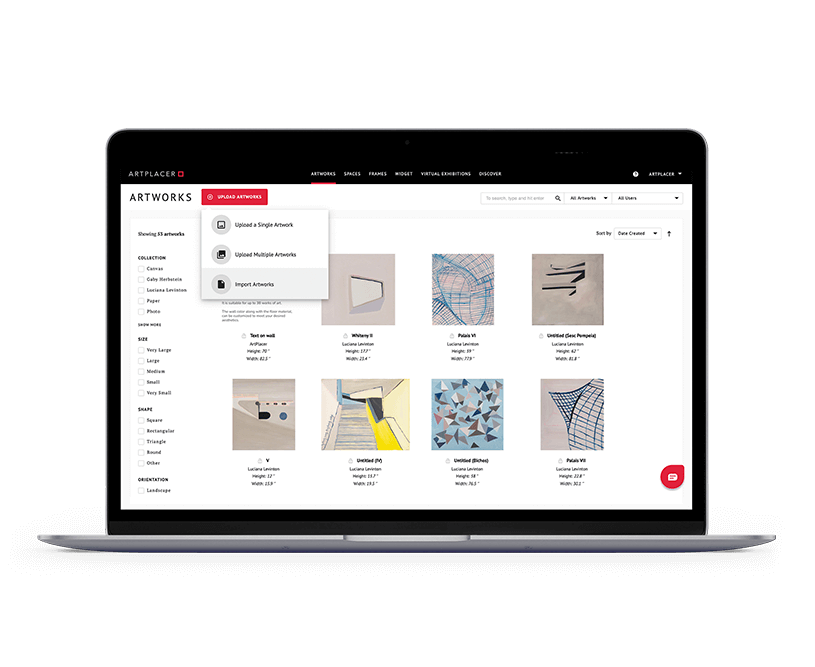 Import big art catalogs in seconds
You can easily import big art catalogs from CSV files. Download a CSV from your art inventory management tool or e-commerce and we will automatically match your data to ArtPlacer's artwork parameters.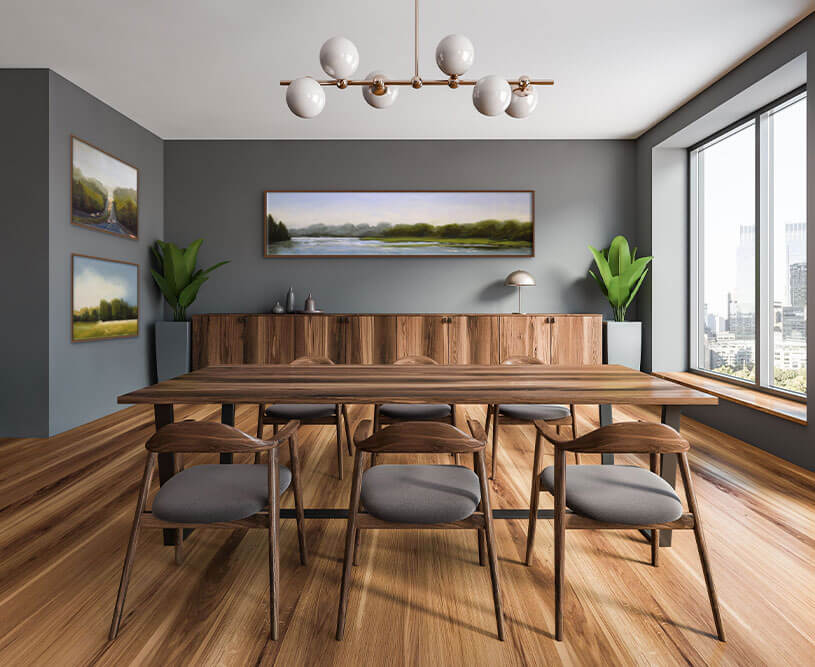 Access stylish promotional materials
Improve your brand with ArtPlacer. Design exquisite setups and hung your art pieces in spaces with varied styles. Save time downloading your creations on social media aspect radios.
Customize digital spaces to your style and aesthetics with Smart Spaces, choose color walls, edit lighting, and layer your artworks behind objects to achieve realistic scenarios. These are ideal for creative representation of your art in place for website imaginary and marketing campaigns. 
Download high-quality screenshots of your virtual exhibitions to share on your professional profiles and communications.
With just a few clicks you can have new content to update your viewing rooms, social media channels, and newsletters.
Well-established Galleries

Increase your collector's engagement with website integrations and AR technology. Get more room mockups and more 3D virtual galleries to place your art in.

$45
Premium Plan
Monthly amount, billed yearly
Learn More

Boutique Galleries

Present yourself professionally by showcasing your art in room mockups, creating 3D virtual exhibitions and getting higher online exposure.

$23
Advanced Plan
Monthly amount, billed yearly
Learn More
Try ArtPlacer for free today
Join hundreds of Art Professionals that are growing their business with ArtPlacer.
Start 7-day free trial