The ArtPlacer Widgets embed ArtPlacer's functionality into your website allowing visitors to visualize your artworks and collections on a number of preset spaces (galleries, living rooms, bedrooms, etc.) and even in their own rooms.
Requirements
The ArtPlacer Widgets can be installed on almost any platform. All that is required is the ability of the platform to allow the addition of custom HTML or JS code into your website.
Some of the currently supported platforms include Shopify, WordPress, Squarespace, Prestashop, Wix, Pixpa, Site123, SmugMug. The Widgets can also be inserted into custom websites.

Generating Widgets for your Website
Bear in mind that in order to generate widgets you need to be an Advanced or Premium member of ArtPlacer. If you need to upgrade your account you can do so from the Admin Menu on your Dashboard.
Click on the Widget Menu to bring up the initial Widget Page. If you have no programming experience we recommend that you read the Widget Documentation to get an in-depth explanation and guidance on the process of generating ArtPlacer Widgets and the different styling, design and customization options.
Once you are ready, head back to the Widget section and click on Create New Widget to bring up the Widget Generator.
The Widget Generator generates the code that you need to insert into your website in order to display the ArtPlacer Widgets. As you complete the form to specify the type of Widget and define its style and functionality the required code is automatically generated at the bottom of the form as in the example below.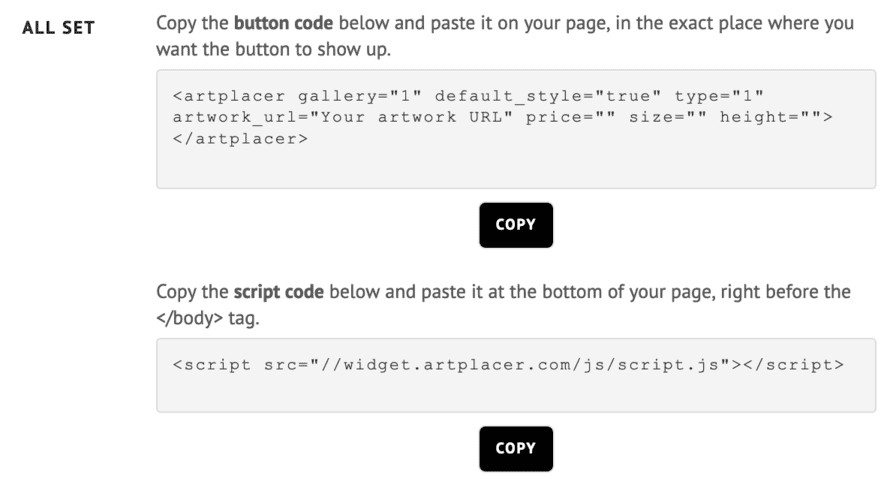 Once the code is generated you need to copy and paste it into the correct section of your website. Please keep in mind that the code generated and the exact position where it is to be inserted in your website are dependent in the type of integration (from the Artplacer Artworks or Dynamic) and on the code method (HTML or JS) selected. Please make sure to read the Widget Documentation to learn more about these options.
If you have any doubts, please contact us.