Being creative and expressing yourself through meaningful pieces is for sure a part of your daily routine. However, turning that talent into a consistent and profitable sales flow, might present itself as a challenge.
That's where art marketing comes into the game.
In this digitally connected world, presenting your body of work in a curated 3D Virtual Exhibition can catch your collectors' attention and improve your recognition.
In this article, you'll learn the best ways to promote your online shows and build momentum around them.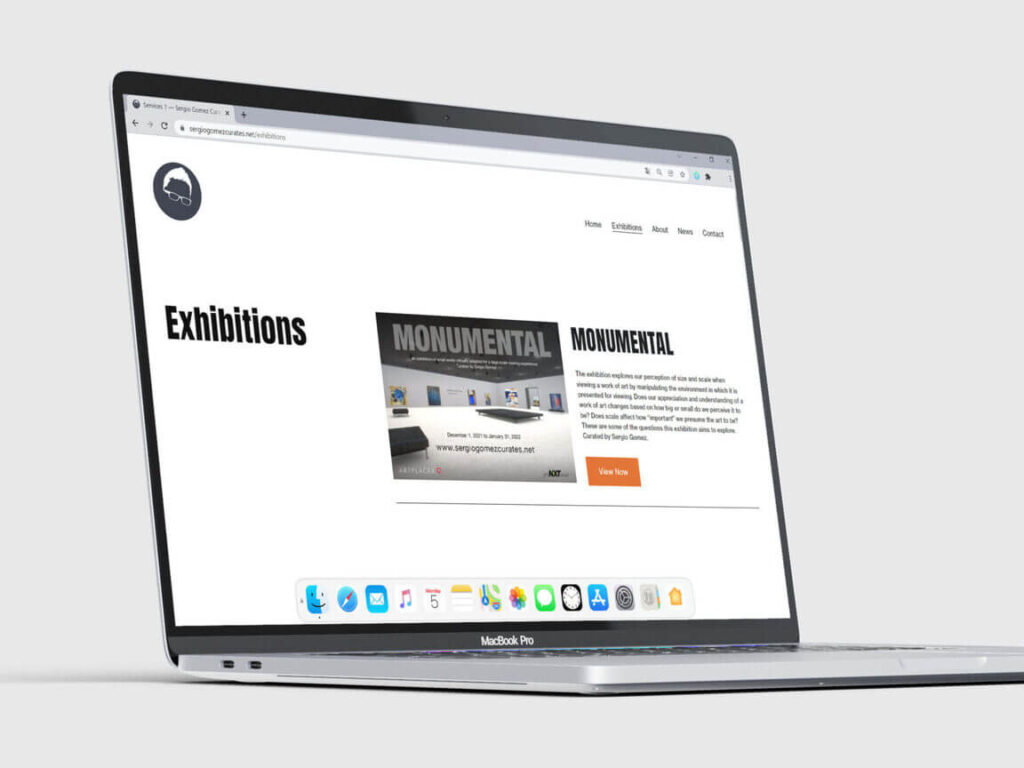 Sergio Gomez website, announcing his curated virtual exhibition: "Monumental".
Before the Opening: put your show on the map
Since the pandemic began, strategies to mix online and offline experiences have evolved. Communicating your artworks' info clearly is key to success. Be certain to have completed all of your artworks' details and additional resources on your virtual gallery software such as Buy links and PDF brochures.
Once everything is in place, we suggest reaching out to your audience through social media channels and email marketing to promote your virtual show.
Use Instagram to arouse curiosity
As you may already know, Instagram is all about visuals. For this reason, don't miss the chance to make beautiful posts before the launch. You can use a screenshot of a specific piece hung on your virtual show, or a detail of the main artwork or photograph that you'll be presenting. Use images to arouse curiosity.
Remember to add descriptive and insightful information such as the opening date and your artist or curatorial statement. You can also take advantage of the Countdown sticker on IG stories, so that reminders get easily set up on your followers' accounts, and no one skips premiere day.
For Instagram and Facebook, a good practice is to update your profile with information related to the upcoming event. You can add links, dates, a brief description and emojis. Additionally, you can update your profile headers to capture attention immediately and give quick, straight-forward information.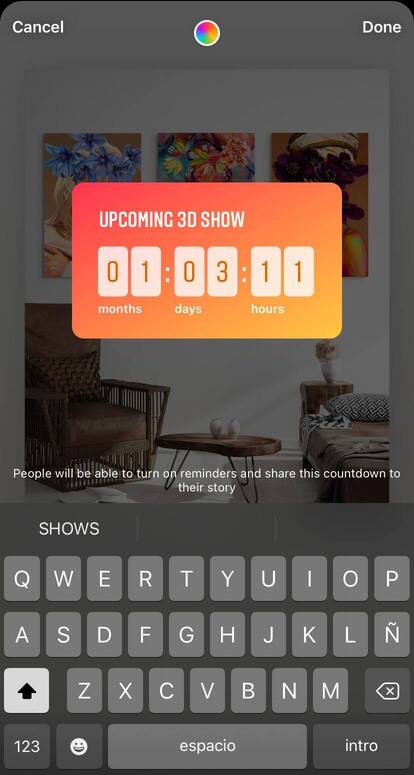 Instagram Stories sticker for opening day.
Create a virtual event on Facebook
In the first place, Facebook features such as Fan Pages and Events are great to keep in touch with your followers.
You can start a "warm-up campaign" with a Facebook event announcing the opening date of your 3D Show. This will help your collectors, fans, and followers stay up-to-date! Make them feel special by providing exclusive information and sneak peeks about your upcoming show.
Customize your event with a title, a description, some screenshots, and enhance it with an eye-catching flyer! Share photos of work-in-progress pieces or a small video about the theme of your new collection. Post news everyday and slowly create more and more expectation around the opening.
Talk to your audience personally with Email Marketing
Another highly effective way to reach your contacts is an email marketing campaign.
With online tools like Mailchimp or Sendinblue, you can easily email your database before the show opening with information and a press release. In addition, detailed information can be delivered straight to your collectors' inboxes. For example, you could send an artist's or curator's statement, some quotes for social proof, or even provide a visual glimpse of what they're going to see at your online exhibition.
Email marketing experts assure that personalization and attractive subjects are key to successful campaigns. So pour yourself a coffee and take a moment to create a solid pre-show email.
In fact, with the apps mentioned before, you can access valuable information such as Open and Click rates. This info is useful to learn about your performance, make adjustments to communication strategies, and deliver messages more effectively.
Warm-up campaign checklist:
• Design Instagram posts, stories, and countdown sticker• Update Instagram and Facebook Profiles• Create a Facebook Event• Create an eye-catching flyer• Send an email marketing campaign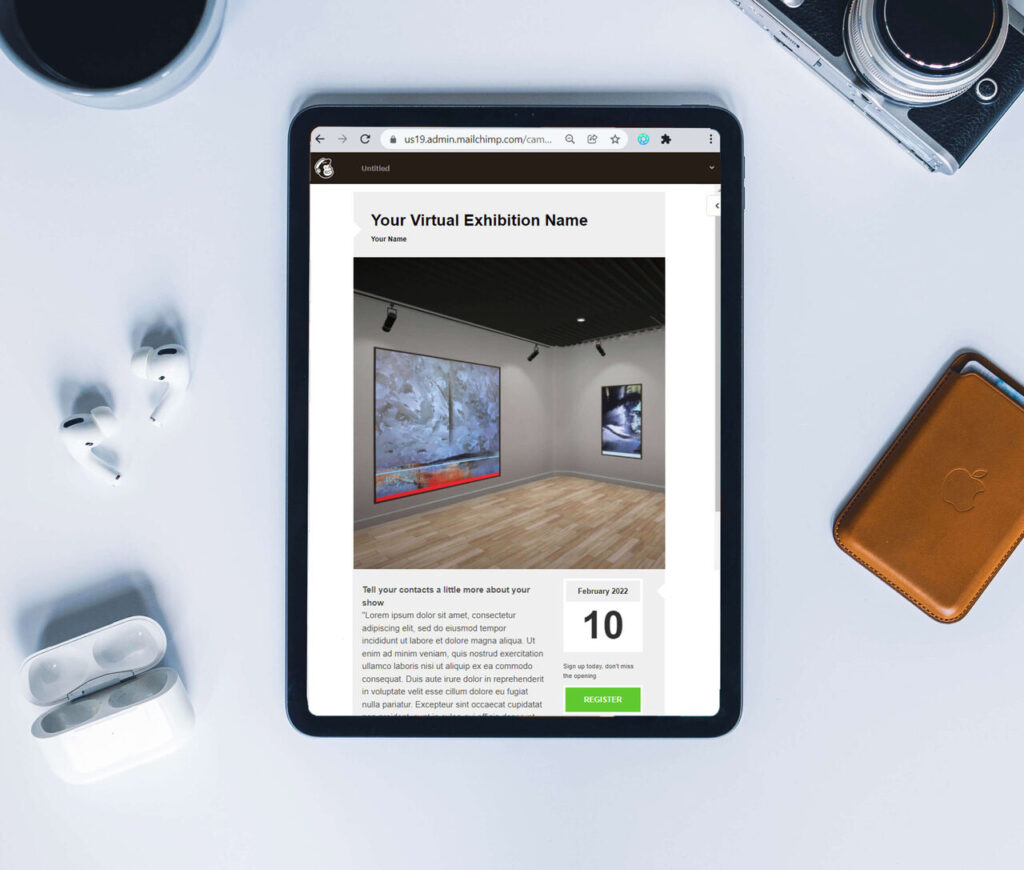 Launching newsletter on MailChimp.
Opening Day: It's showtime!
The day has finally arrived. By now, your followers should be anxiously expecting what you've prepared for them.
Let's make sure you create engaging content and convince your audience to take a look at your brand new show!
Best techniques to publish your show
Your perfectly curated Virtual Exhibition can be embedded on your website or shared through a link via email, social media, or even Telegram and WhatsApp.
We recommend that you embed the show on your site to give your site a lift and a fresh look. If you are tech-savvy, you can go a step further and create a particular page to host the show. If not, embedding it on your home page will work fantastic too.
In this case, all of your promotion efforts should head to the URL where the show is hosted. Allure your collectors to your website, where they can enjoy the show, know more about your journey and buy your work in just a few clicks.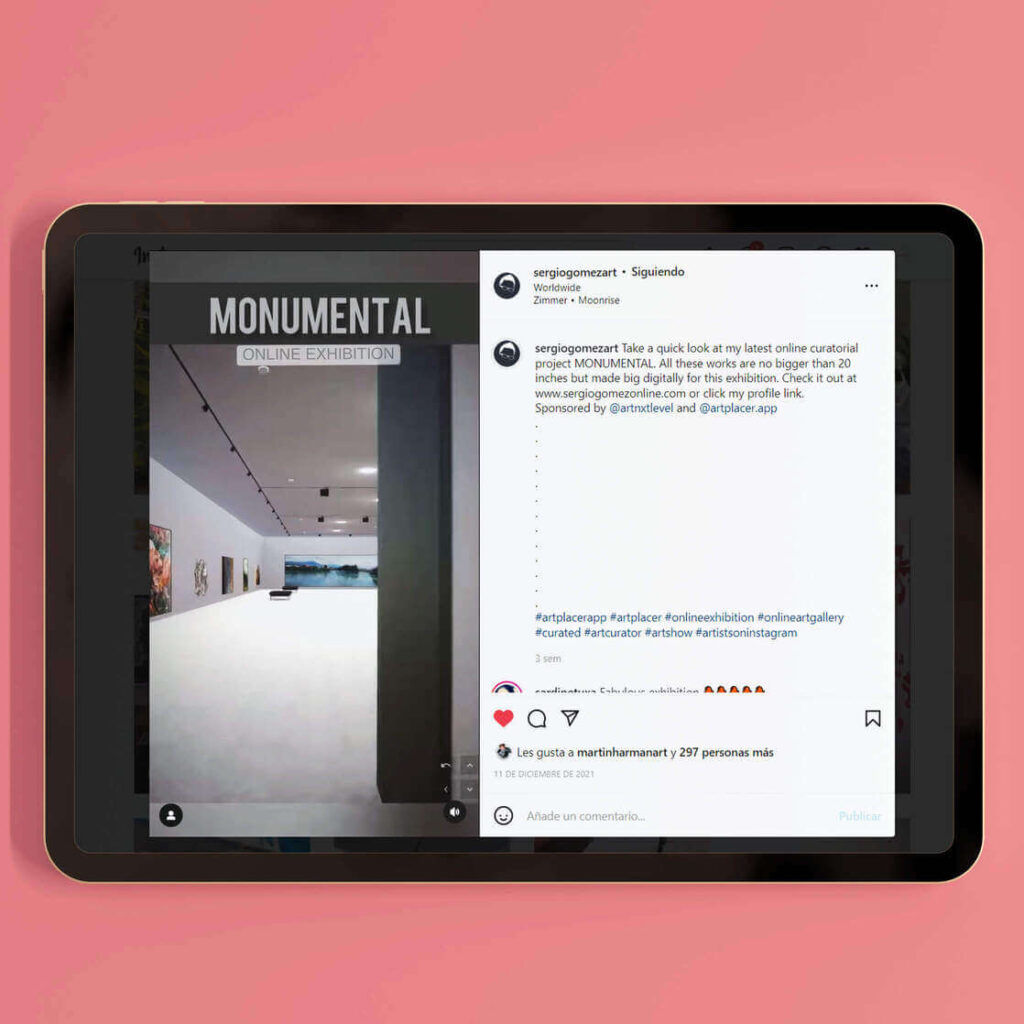 Sergio Gomez's Instagram Reel about his online exhibition.
If you find this option too time-consuming or tough, you can decide to share a direct link to your virtual exhibition instead. A good idea to be coherent and create momentum is to change the header of your homepage with the event flyer and make the artworks of the show visible. You can group them under a new category or showcase them on your home page. In this way, if a prospect sees your show and is interested in taking another look at the pieces, he or she can easily access your new collection.
To access your exhibition, your followers won't need to download anything. They can enter the show from any device that's connected to the internet.
Don't forget to add your link to your social media bios so that your audience can easily find your show. If you need to group several links in one, for example for your Instagram bio, you can use free apps like Linktree. This software allows you to group a variety of URL directions in just one link, for example, your open show, your website, and your YouTube channel.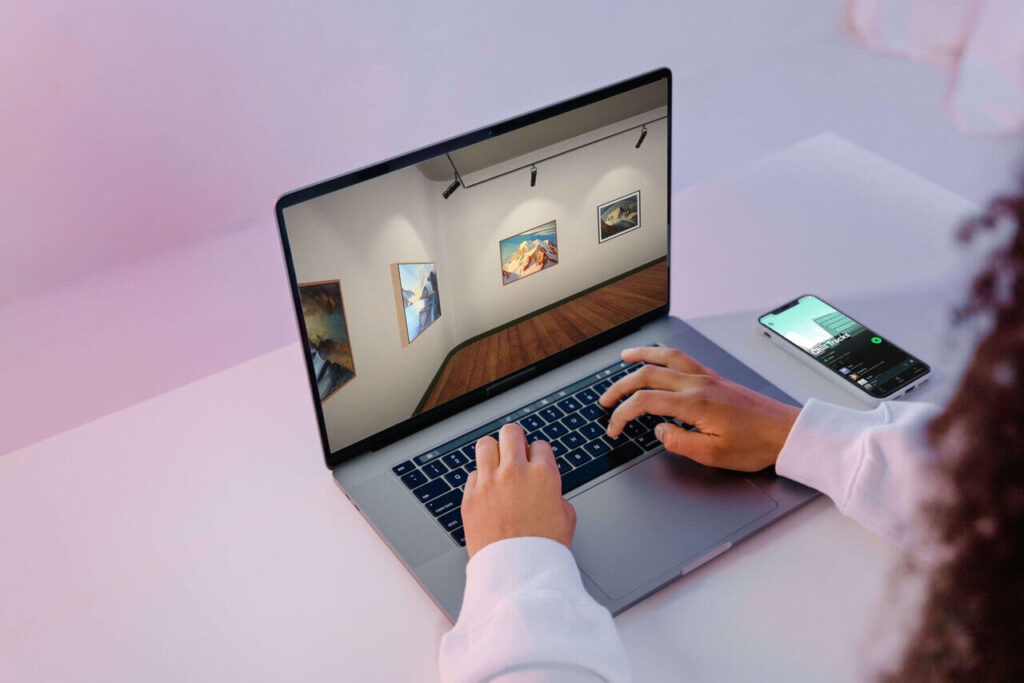 Martin Svensson's 3D Show.
What's working on Social Media right now?
Benefit from what Instagram and Facebook have to offer. Take advantage of the Facebook event you previously created, the short videos, live events, and static posts.
A great way to introduce your Virtual Exhibition is to make a quick video tour. Record your screen while navigating the show and add a voice-over or a favorite song to create a nice atmosphere. Make a short video out of it, and post it on Instagram as a Reel or on Tik Tok.
Don't forget to show yourself talking about your work! It's a big plus to get to know the artist behind the pieces.
A post with an opening statement can be a great way to start a conversation with your followers. Also, going live on Facebook and Instagram to present the show can be very powerful. Take it up a nodge and invite your followers to a private guided tour hosted by you. Navigate the expo for a bit and guide them to your new or favorite pieces. This sneak peek will lock them in.
Engage by chatting, answering questions, and giving your followers more information about your journey and your show. If a collector or colleague shares the news on their social media profiles, don't hesitate to reshare the post on your stories.
Pro tip: There's no need for you to rush on opening day since you can pre-schedule your posts. Tools like Facebook Creator Studio and Hootsuite are fantastic to plan the strategy in advance.

Share the news using Email Marketing
An email touch-base the morning the show releases is a must. Your email audience has already been in touch with your work and will love to be the first to know about the opening.
Need some advice? A catchy subject can go a long way. Visual resources inside the email can encourage contacts to click on the link and visit the show. Invite your audience with a clear call to action and get that click. In this email, you could also invite your audience to join a live video that you might be doing in the afternoon.
Pro tip: Art is about emotions and feelings, and music is too. Sharing a customized Spotify playlist might add an extra something to the viewing experience making visitors connect with your artworks on a deeper level. You can choose to share the playlist you listened to while creating the pieces, or music that complements the visuals.
Launch campaign Checklist:
• Embed the show on your website• Share the link on social media (you can use Linktree for your bios)• Create Reels and Tik Tok videos• Pre-schedule your posts• Go live on Facebook and Instagram• Send an Open Show email announcement• Create and share a Spotify playlist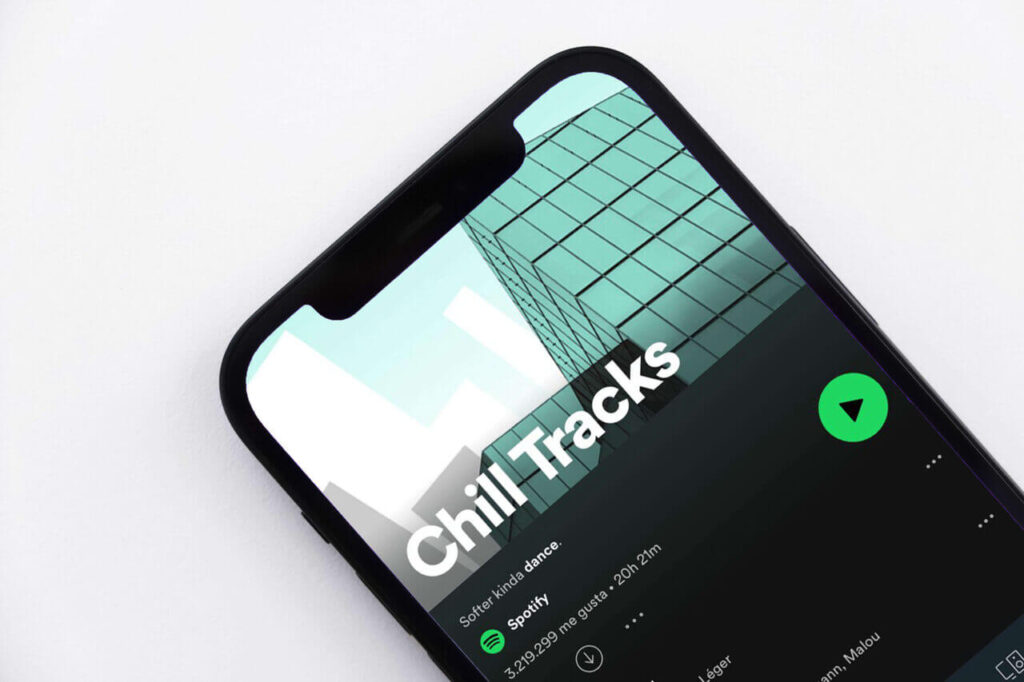 Spotify Playlist.
During The Show: how to maintain interest
During this stage, you should get as many people as possible to visit the show. Some may miss opening day or be too busy when they see the announcement, but you need to strategize to catch their attention later at night or during their free time. Others might have already attended your show but were too shy to inquire the first time. Re-visiting the expo and interacting with your artworks for a second time might incite them to go further.
ArtPlacer Virtual Exhibitions add some extra spice with the use of Augmented Reality technology. Visitors can superimpose your artworks on their walls and see how they would look in their space. This works wonders in undecided collectors.
Make the most out of social media interactions
Your audience already loves what you did! They're mentioning you and your show on social media, and connecting with your story.
Don't forget to share the photos and comments you've been tagged in. Quotes from real fans work as social proof for those who do not know you yet.
A good idea is to ask a mentor or a colleague for feedback, to create excellent content for social media. You can also create another short video inviting your audience to your show or post screenshots of the virtual gallery as a sample of what the show has to offer.
Additionally, benefit from Instagram stories stickers such as polls and quizzes to know which artwork is your audience's favorite. Add a little fun and level up engagement with followers!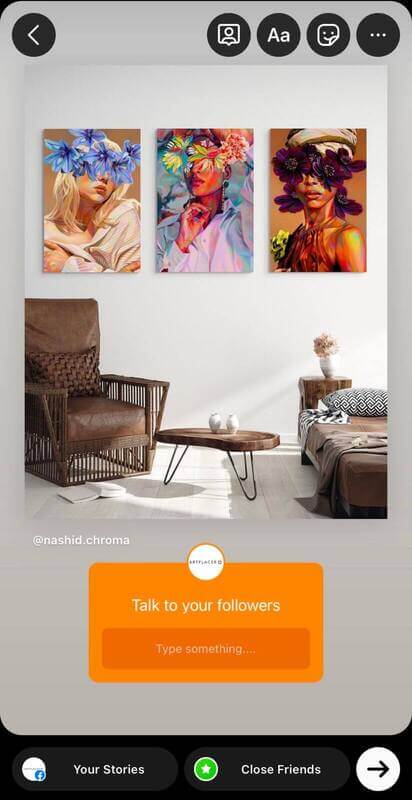 Nashid Chroma Post – Instagram Stories Question Sticker.
Keep the conversation going via Email
Follow up with collectors that showed interest and offer them a virtual art gallery-guided tour. Zoom is a fantastic tool to achieve this and to get to know people virtually.
Share additional info that may lure people into your current work. You can talk about a central piece of the show, and why you were inspired to make it.
Pro Tip: As your pieces sell, you can mark them as "sold" inside the exhibition. In this way, you will create a sense of urgency in hesitant visitors.
Open show campaign checklist:
• Share and repost content you were tagged in• Get relevant quotes from colleagues• Play with Instagram stories stickers• Follow up with your audience via email• Mark your pieces as sold to create urgency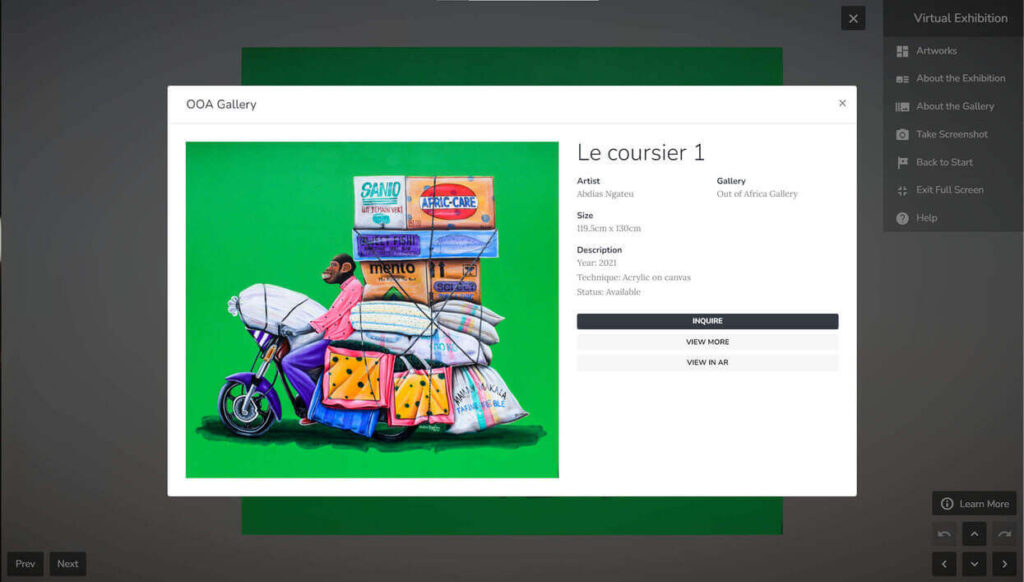 Out of Africa's Online Exhibition on Discover ArtPlacer.
What's next once the show ends?
It's not over yet! Don't let your show be forgotten once it has closed.
Social media updates
Some people may haven't got the chance to visit the show while online, so share screen captures of the event on social media and start creating new business opportunities.
Variety is key to social media content, and fortunately, there are other tools to display and exhibit art pieces. To convey a sense of reality, artists can virtually present their pieces in room mockups. ArtPlacer Library Spaces wall art mockup generator that provides a range of high-quality interiors to create exquisite designs. There is a space for every art piece.
Post-show checklist:
• Post follow-up content on social media• Create and share room mockups using Library Spaces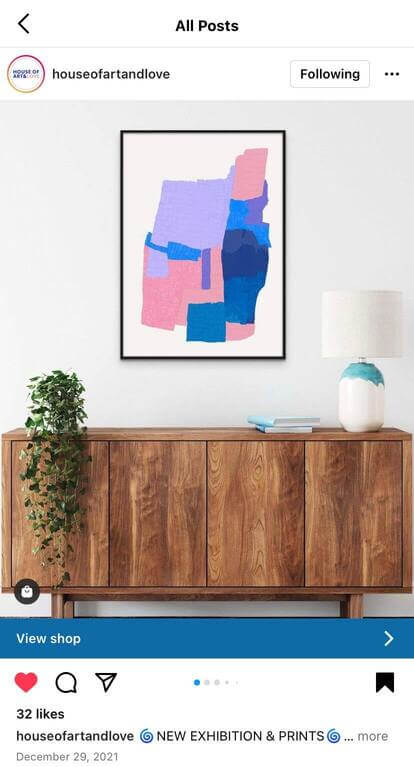 House of Art and Love Instagram post.
Your Turn!
You now know how to make the most out of your virtual exhibitions.
Promote your show successfully and see how your collectors and followers engage with this unique viewing experience.
ArtPlacer is proud to guide artists on their journeys with the most powerful art marketing tools. If you have any doubts about how to create your show, check out this video. If you have any comments or suggestions, please let us know.
Become an ArtPlacer member to create your first Virtual Exhibition. Sign up and start ArtPlacer's 7-day free trial.