Strategies, tips, and digital platforms used by the artist and gallerist Jasper Wolters.
My name is Jasper Wolters and I've been an artist since 2004 (graduated from the Academy of Fine Arts in Hertogenbosch). I began my career working as a freelance graphic designer and concept designer.
Nowadays, I'm working as an art producer for WOL75 Creations, a creative agency for interactive art. During the day I work on these matters and during the evenings I create mixed media and digital art.
In the beginning, I didn't focus on selling art… but I was always looking for new opportunities. Unfortunately, it took me a while to find the right platform and partners to display the art I was creating. I was struggling with everything: the production, the sales, and the distribution. Until everything fell into place.
I hope my journey helps you with yours.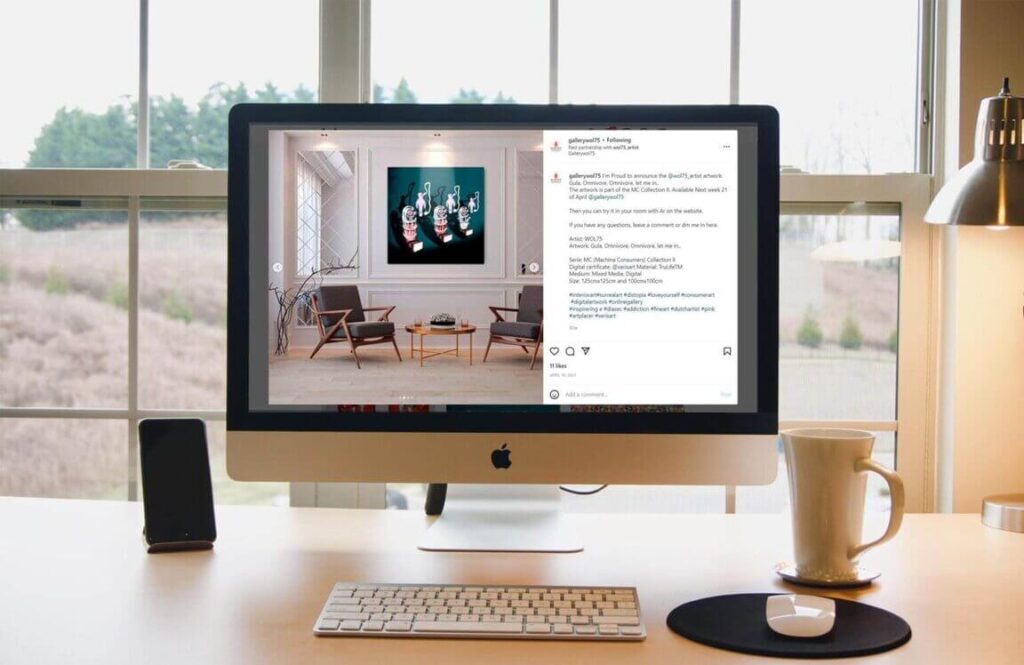 Instagram post created with ArtPlacer's Library Spaces.
My first physical gallery
A few years back I decided to start doing research to find the best materials and partners for the production and selling of my art. A specific question crossed my mind over and over: "How would I like the experience of buying an artwork to be?". And one step at a time, I started envisioning my first online gallery.
Personally, I prefer to buy works of art from the artist himself/herself. where I can get to know the artist in the flesh and talk to them to establish a personal connection. Truly get to know them, their story, motivation and art. Also, as a buyer, I expect an excellent shipping service. I want to know that my new investment is being taken good care of on its way home. Additionally, I appreciate a good service after receiving my favorite piece of art to close a professional and highly enjoyable experience.
With these points in mind, my research continued, but all parties I found didn't facilitate the experience I was envisioning. Then, in 2019, an opportunity came along and it felt like the first step I should have taken.
The start of my virtual art gallery
In 2019, we were renovating a part of our home as a studio, but the space was really big. So, the idea of building my own gallery was born. It was no longer going to be just a studio but an artist-run gallery, too.
And then, of course, I needed an online shop.
I started with a very simple website, but in March 2021, when the pandemic hit, the site started getting significantly more views each day.
According to the Art Collecting 2021 report by Artsy, "The online art market has doubled in value year over year, making up 25% of the overall art market in 2020. Over the past two years, collecting art online has gone from a novel activity to the norm." The internet has become an increasingly important channel for driving purchases, so I wanted to make sure that gallerywol75.com was as customer-friendly as possible. I wanted to provide the best experience to cater to my buyers.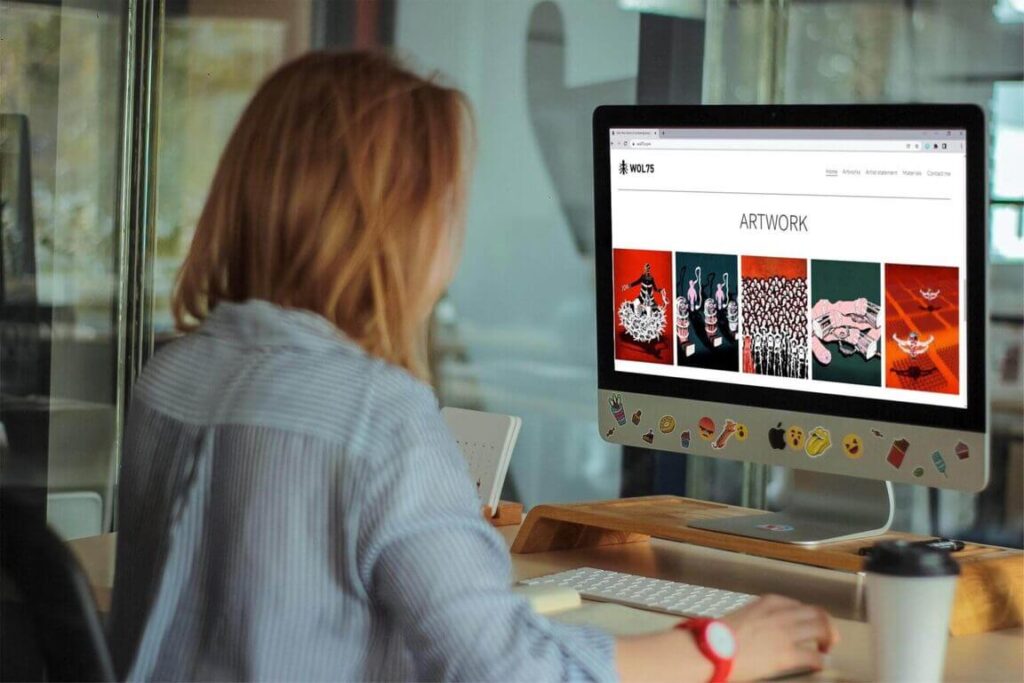 I spoke to different parties and investigated other galleries and marketplaces that were successful.
I found Shopify to be the right platform to build my shop on. I think of visitors who come to my site as collectors who just walked into my physical gallery. Shopify gives me full control over how the site looks. They have plugins that have helped me achieve that specific look and feel that I was aiming for.
I partnered up with ArtPlacer for the customer viewing experience. The ArtPlacer integration keeps my visitors engaged and inside my online gallery for longer periods of time. The visualization of art in their homes using Augmented Reality technology ("View in AR" button), or the image mockup ("View in my space" button), enables my collectors to make informed buying decisions, with visual support. If you don't know about this tool yet, I recommend that you head over to my site to check it out. It's a game-changer.
I chose Veristart for the digital Certificates of Authenticity, and excellent partners to help me with the shipping process.
In March 2021 the new website went live. And I was thrilled.
How to provide the best art-buying experience possible?
The main reason that I started an artist-run based gallery is that I want art lovers to establish a personal connection with the artists. This is an important value for Gallery WOL75.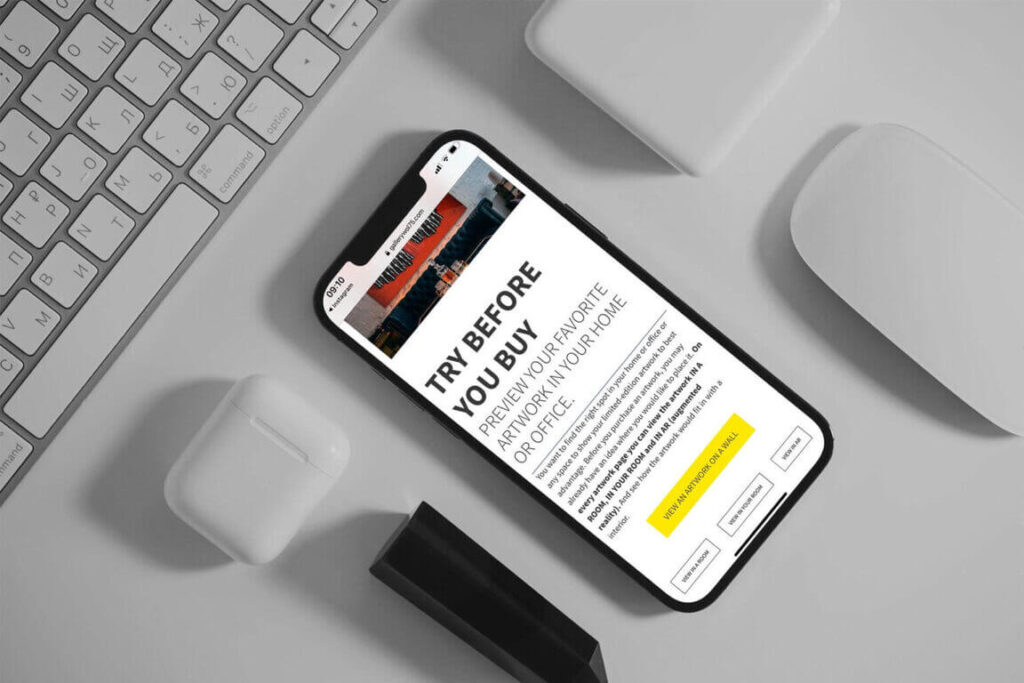 "Try before you buy" ArtPlacer's integrations.
Advisory services
On my website, I offer the possibility to plan an appointment with our advisors, without any commitment to purchase. I find it important to get to know the customer. Understanding what they are looking for, what their interests are, what's important to them. 
Once we have covered the bases, we explore with our Advisor which artworks can suit the customer. We offer the possibility to meet the artist in a one-on-one online meeting to create an extra connection with the piece or pieces, and get to know the artist and the meaning behind their work.
Virtual visualization with ArtPlacer
Another important thing is to advise them on where to place the art in their interior. That's where the advisory services and the ArtPlacer visualization come in. The customer attends an appointment and the Advisor guides them using the ArtPlacer tools to create accurate setups, using real dimensions.
Put yourself in the customer's shoes and try to create the best experience possible.
As a customer, you would like to see the artwork hung on your wall and know that you chose the right spot, and artwork for your interior. So, our first step as an online shop is to get as close as possible into the buyer's home.
With ArtPlacer Augmented Reality technology you can bring an offline personal experience into an online environment and start crossing over online and in-person purchases.
ArtPlacer AR offers the possibility to see art hung on walls virtually, instead of doing an offline trial placement.
I searched for a long time for the right partner who could achieve this. Finally, I came across ArtPlacer, the most user-friendly gallery app my store could have.
The art lover can choose from 3 varied ways to see artworks on a wall, in just 1 or 2 clicks. They can also place additional pieces on a wall. Besides enabling visitors to try the artwork in their houses with just a smartphone or a tablet, we offer free advice. We display different tools to contact us, like live chat, e-mail, or video calls. The customer can choose in which way they would like to receive personal advice from our experts.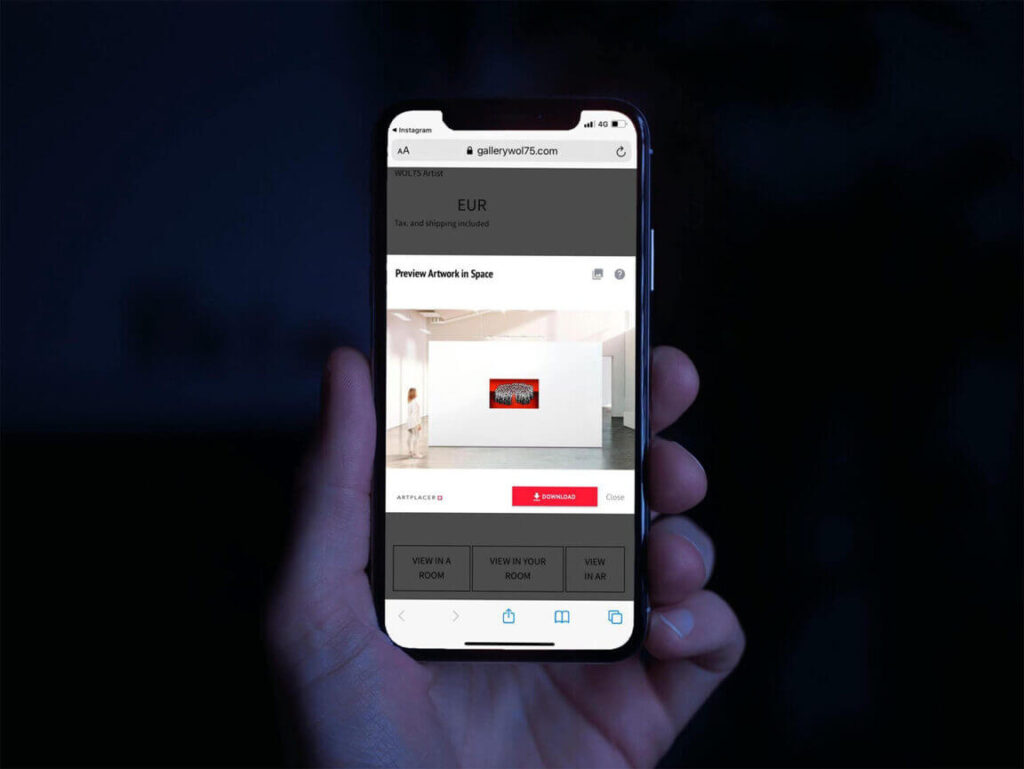 Sample Room Widget at gallerywol75.com.
Certificates of Authenticity
Another customer-friendly approach is that after the delivery of the artwork, the collector receives a digital certificate of Verisart.  A certificate of authenticity (COA) is a document that proves that a work of art was created by an artist. I'm committed to exclusivity, at Wol75 every work of art has a limited edition or it's an original.
I collect art myself and exclusivity and authenticity are important for me, I believe they create value for the collector. I was looking for tools to create a COA for my artworks which I sell all over the world and I found Verisart. They have Secure Digital COA with blockchain technology. I use these digital certificates of authenticity instead of paper certificates.
Shipping costs 
The prices in my gallery include shipping costs, so collectors are not surprised at the end with an extra fee. Also, when the artwork is shipped and delivered I like to make a personal call to the art lover to see if everything has been delivered properly and see if they are satisfied or have any questions.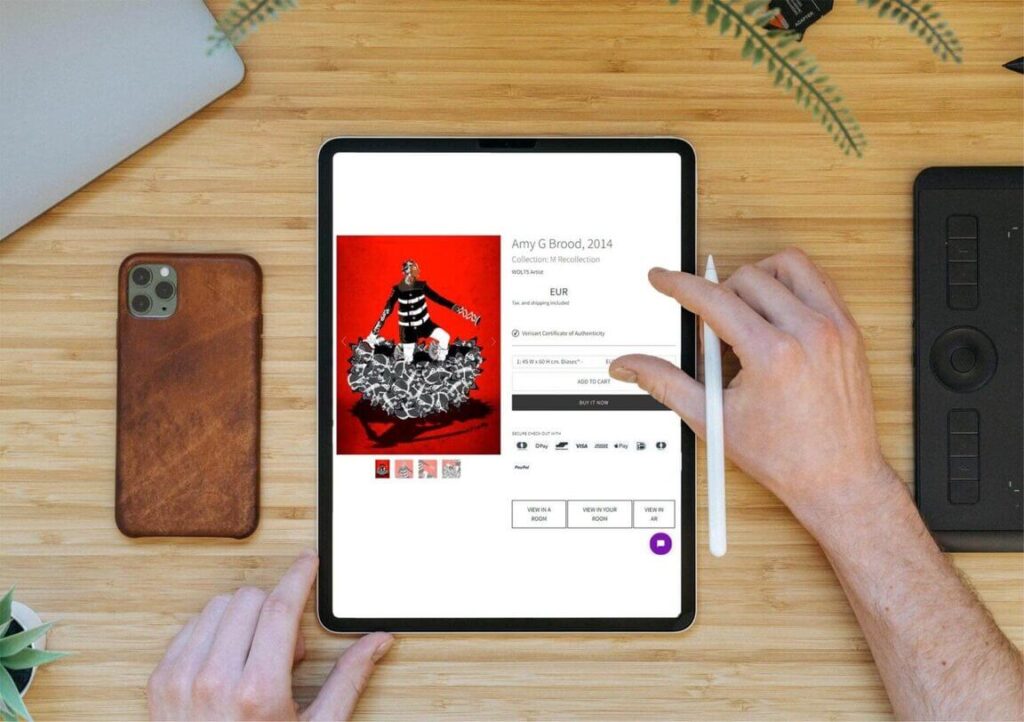 ArtPlacer's buttons in artwork page.
Looking to transition from offline to online sales?
I would recommend that you create a clear vision and surround yourself with people who can help you realize that vision. My girlfriend is a Communications specialist, and she also motivates and inspires me to make my dream come true.
Do research, ask a lot of questions to artists who already have a successful online shop, and listen to their learnings. Then, decide what you can do by yourself and what you need to outsource.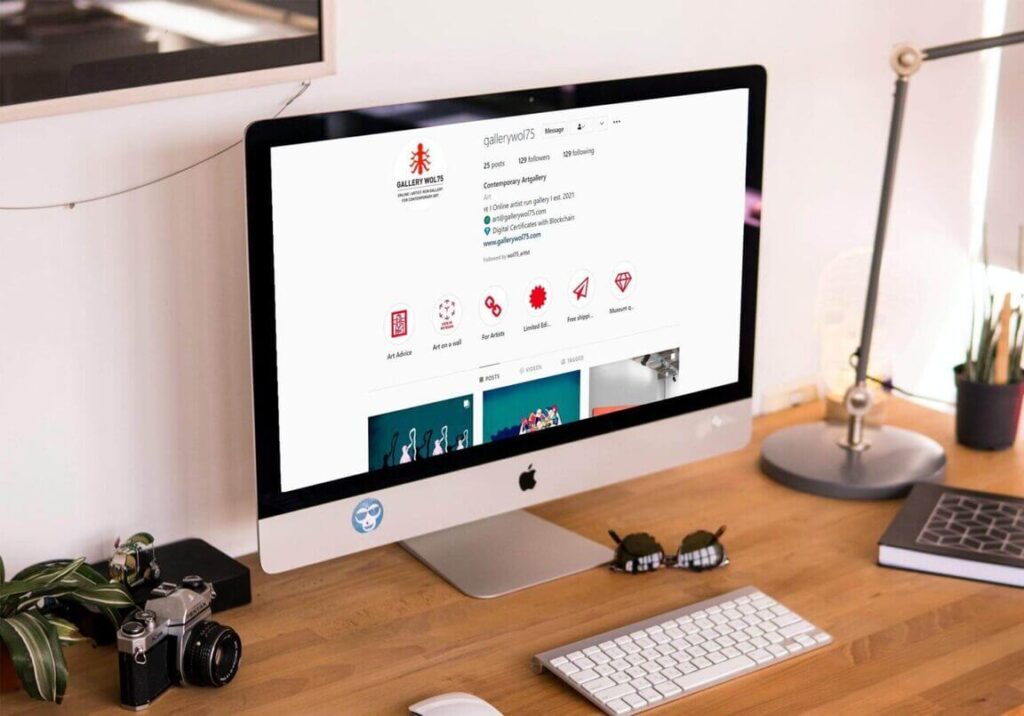 I have the skills to design my own online gallery, but needed help with the technical stuff. I struggle to handle social media… to lead customers to your social media profiles you need to have a plan and a strategy. That's why I started to invest in a content marketer and a gallery app. Look for specialists around you.
And most importantly… believe that you can make it happen, even if it takes longer than expected.