An art print is a quality reproduction of an original art piece created through a mechanical process of transfer. Don't even dare to compare them with a simple printed poster. An art print might not have the texture of the stroke of the brush over the canvas but everything in it, including the technique used for reproduction, is a fine art in its own right.
An art print might not (necessarily) be handmade by the artist but it does require their input: from giving their permission for an open or limited reproduction to choosing the print medium and reproduction process. Just because these are iterations of a piece it doesn't mean they are something you can find everywhere, their existence might be limited to a few copies with an identification number, a small factor that can even raise its value in an auction.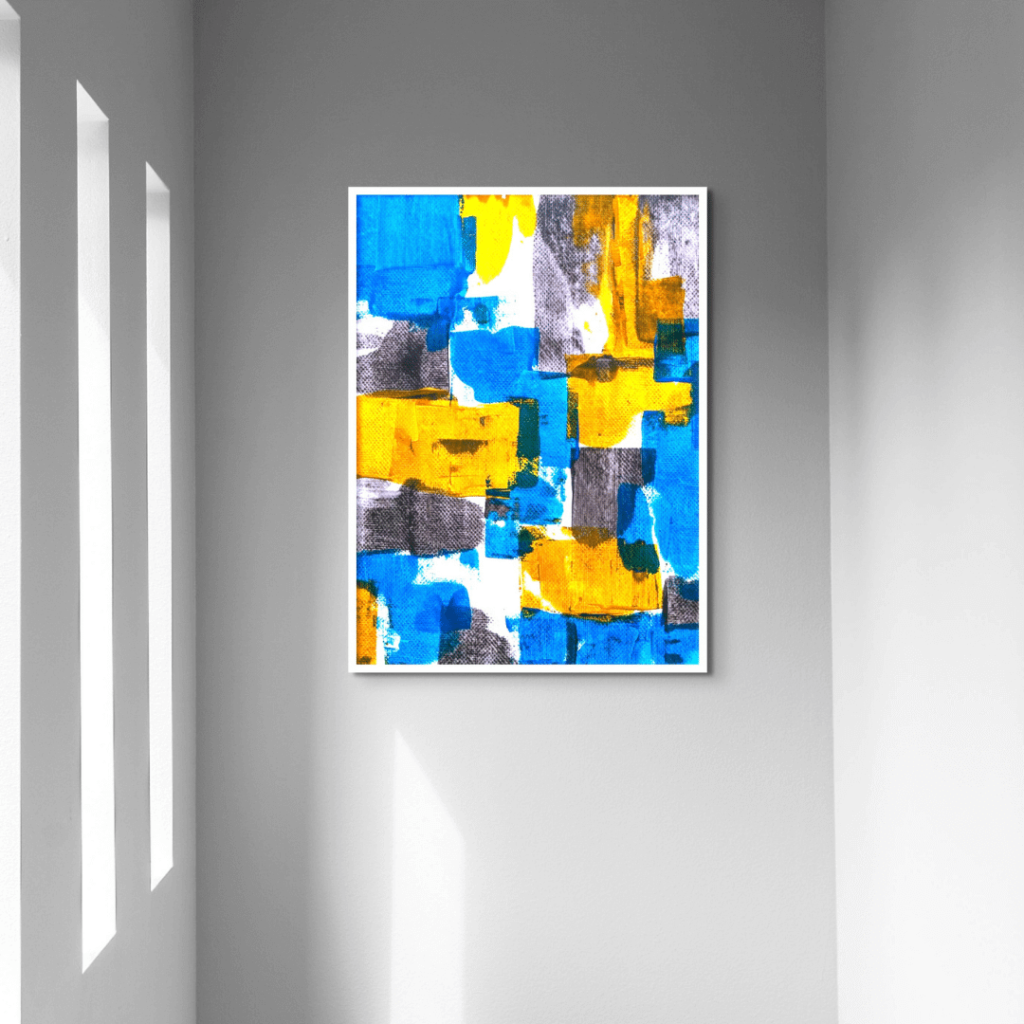 An art print is a common first investment for art collectors.
Why do artists make art prints?
You might be wondering: why would an artist be interested in creating copies of their own work? Well, they might want to explore printmaking in their creative process or do collaborations with certain print houses. This is also an answer to the art creator's conundrum of how to make their work more accessible while preserving its uniqueness.
From a commercial point of view, for new collectors and shoppers, art prints are an affordable investment and a really desired one when the artist is involved in their creation process.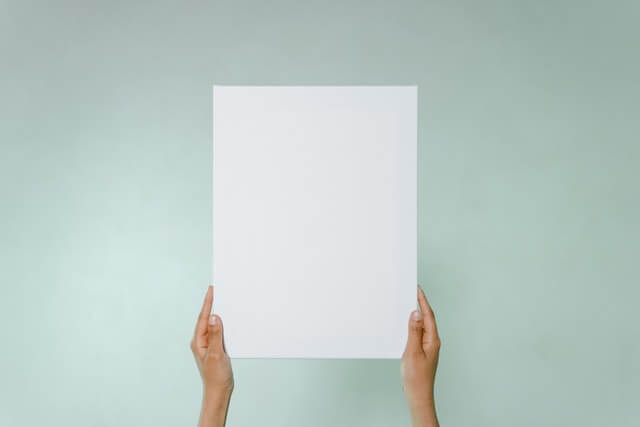 The base surface of an art print says a lot about its quality and value.
Types of art print materials: from ink to canvas
Just like with any other art piece, the medium is important when it comes to art prints. Don't think of a print as a copy but as a graphic piece of art that was conceived to be transferred to different mediums. With this in mind, we can mention three important materials that make them come to life: a base surface, ink, and a matrix or the embedded surface that will be used to transfer the image.
Achieving the high quality of an art print usually asks for the use of inks based on pigments instead of dyes. The Matrix is generally made out of metal, stone, and even wood, that is carved, drawn, or sketched to create a design that can be pressed on the base surface to create the art print. And when it comes to the surface, well, the options vary according to the desired end result but these are the go-to-options for high-quality art prints:
Canvas
If the idea is to create an art print that truly gives the feel of a handmade piece of art, a canvas is the way to go. The texture of this cotton-based surface mixed in with a high-quality inkjet print can bring to life the details you love the most about an art piece.
Fine Art Paper
This is the type of premium acid-free archive paper required for first-rate art prints with a tinner medium (ideal for framing), with high contrast colors, and even a somewhat textured finish. A matte white base is a key to greater color fidelity.
Photo Paper
Open up your mind because photo paper is not only for art photography. Pairing premium gloss photography paper and an inkjet print process will give you a satin-like finish. Semi-matte and matte photo paper offer minimal glare and higher color saturation.
Watercolor Paper
This "heavyweight" paper is thicker than the usual fine art paper and it's worth the price. Made from either cotton or wood pulp, this is a textured paper that offers one of the best end results for prints.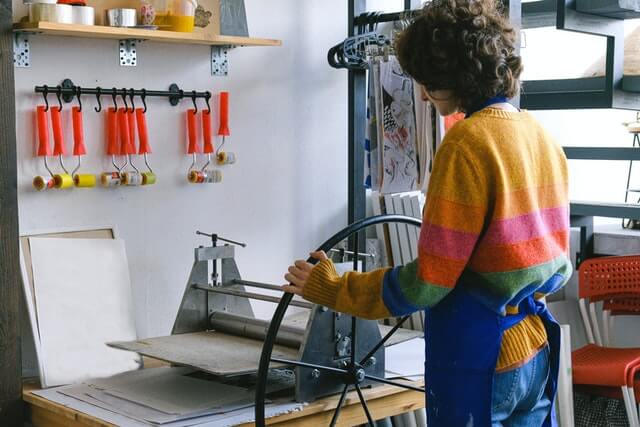 From metal presses to inkjet printers, many roads lead to the creation of an art print.
Modern art print techniques
Printmaking techniques have evolved to capture what artists have wanted to portray for centuries. One of the oldest methods for creating a print is woodcut which consists in carving the desired image into a piece of wood with gouging tools, once the piece of wood is covered in paint it's pressed into the canvas to create the print. Using different pieces of carved wood to create layers helps to achieve colorful and more detailed prints.
Another common process is etching, which uses a metal surface treated with acid to create the design that will be transferred into the paper. Lithography has been a favorite for many artists that have found a creative outlet in this printing process. Artists like Picasso or Miró used this method that consists of drawing on top of a stone surface that is treated with chemical solutions to attract or repel oil ink according to the desired design, this surface is later transferred into the paper with a press.
If you have seen Andy Warhol's Campbell's Soup Cans, then you are already familiar with screenprint. This method popularized by 20th-century artists, calls for the use of a stencil that is placed on a frame with a screen made of out a thin mesh, the paper is placed below this screen and the ink is pressed into it covering only the cutout portions of the stencil.
Giclée is a high-quality inkjet print that has risen to popularity, especially among digital artists. In this process, archival ink is sprayed over the paper to achieve a high-resolution version of the desired image.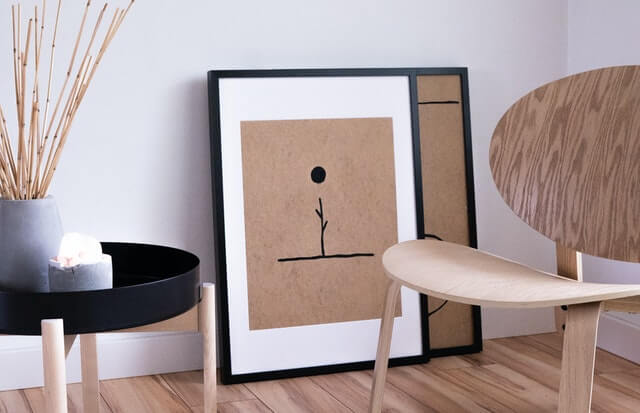 Art prints need good framing that prevents fading and discoloring. 
Frames for art prints
With a clearer view of what art prints are and what they imply, it's easier to understand why framing these pieces is so important. An art print needs certain care to stand the passage of time, and as valuable art pieces, they are worth investing in having them properly mounted to protect them from dust and UV rays.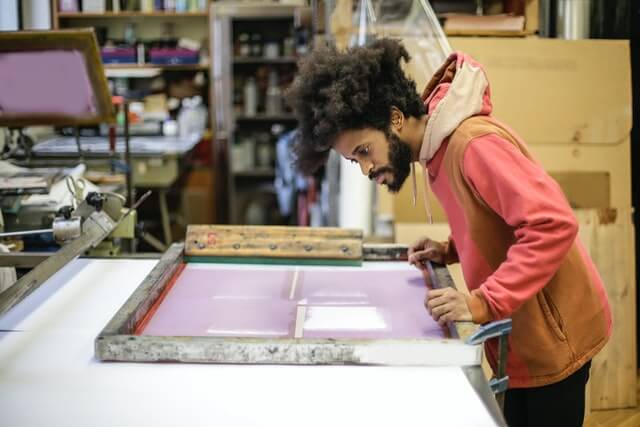 Creating an art print requires planning to achieve the desired result.
Creating an art print: first steps
If you have decided to dive into the world of art prints, there is a time and money-saving strategy you might want to follow: making a mock-up before going into printing or mounting.
With ArtPlacer's frame builder you can design a customized frame for your artwork and see how it would look on a real scale in a large selection of spaces. All you need to do is upload a picture of your piece and then play with the tool to find the perfect mix of material, texture, and color that makes it stand out.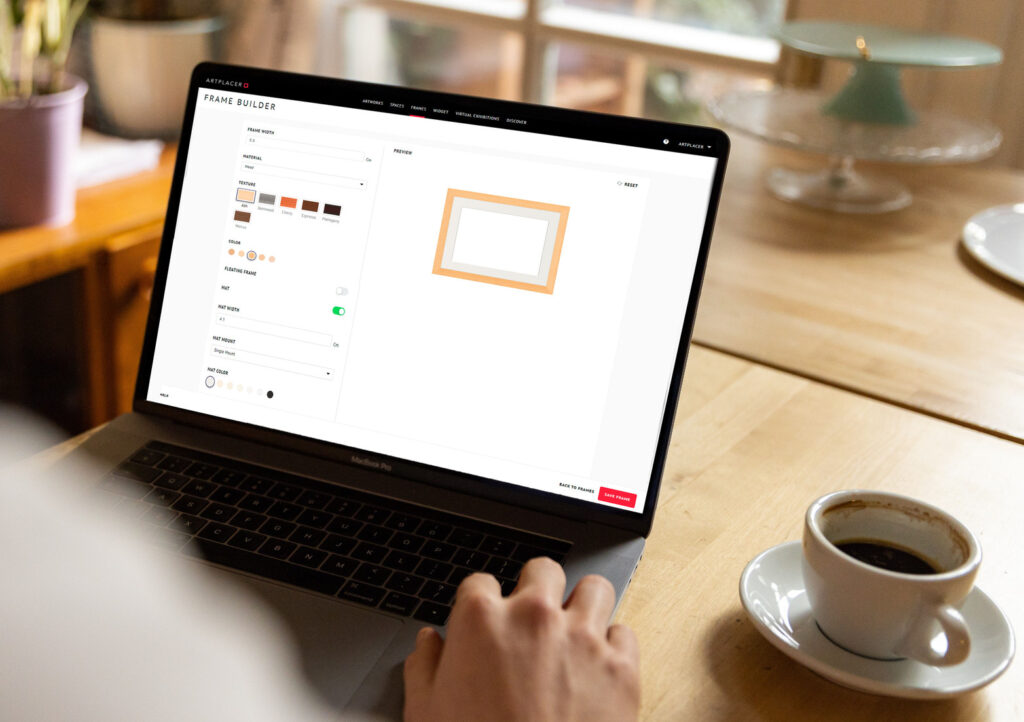 ArtPlacer's widgets help visualize how an art print would look framed in a room mockup.
ArtPlacer Library Spaces will help you visualize how your art print will look in a room. From living rooms to hotel lobbies, you can access a great array of spaces with different styles to create a room mockup with your piece. You can customize the image and download it for reference or to promote your art print online and reach potential customers.
With all of this in mind, it is time to take a matrix and start preparing it for your own art print.