"I've booked more commissions than I can probably handle this year." In late 2020, artist Wendy Sharpe began using ArtPlacer and attended two art conferences. She started thinking with a business mindset, booked the first commission and her career lifted off.
Solving objections to purchase
I booked my first commission ever in late 2020 with a beautiful collector called Lacy. It was a Christmas surprise for her husband with a piece of the spot where they had first met. It was lovely.
Before the coaching sessions I was always like, "Well, just buy my work". I wasn't thinking of the objections to purchasing art that collectors may have. Will this artwork fit? Will it look okay? Will the colors look okay? (My colors are incredibly bright in person!).
That's when I started working more with ArtPlacer in terms of using the platform to place my work in a collector's space. I used the My Spaces functionality to send Lacy several setups of canvases placed on her wall to find the perfect size for her piece.
We tried a 30×40 in., a 48×60 in. and a 48×48 in. canvas.

Artwork placement on Lacy's wall.
She had the wall, knew what building she wanted on the piece and that she wanted me to paint it, but she couldn't visualize the size. I recommended a square piece based on the shape of the wall. The images aided the process and helped us choose a 48 x 48 x 1.75 inches canvas.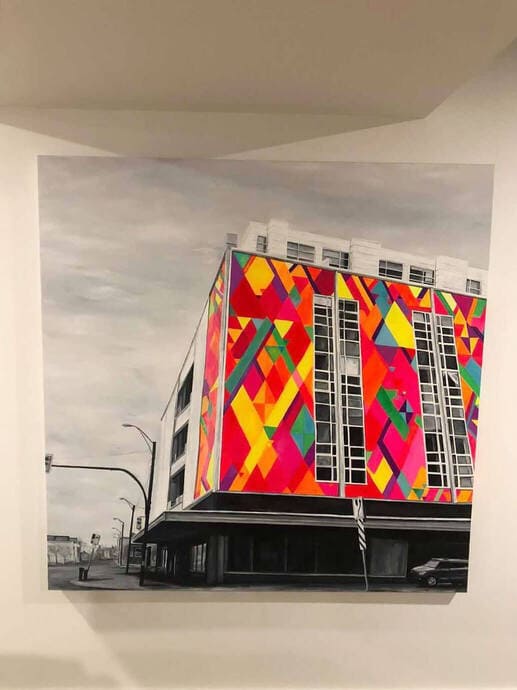 Lacy's artwork hung on her living room wall.
Moving forward with micro bursts of momentum
The business coaching allowed me to get my problems and my preconceived notions of being an entrepreneur out of the way. Also, of being a woman entrepreneur… because we have a different set of challenges… but I learned that it can be an asset and not a barrier.
A few weeks later I won an ArtPlacer contest and got a seat at The Clark Hulings fund "Virtualize your art career Conference" and that gave me a roadmap and a toolkit. There's a strategic way to approach the art business, there are things that you need to think about.
The coaching helped me understand how I wanted to show up in the world as a creative entrepreneur, and the conference gave me the toolkit to lay out the path to get me to where I want to go.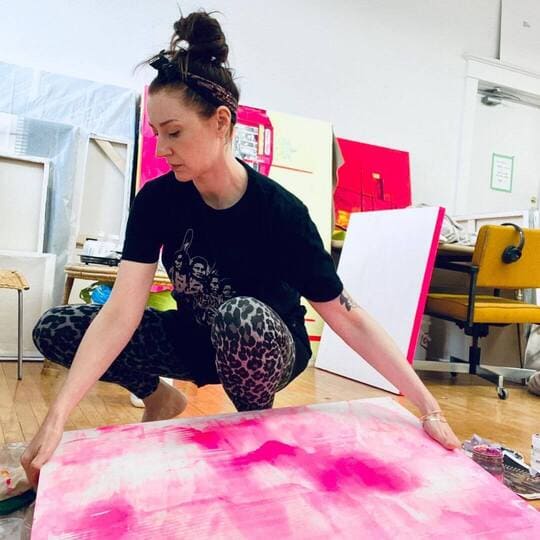 Wendy Sharpe in her studio.
For Wendy, the little bits of momentum are crucial to make sure that she is moving forward. She took on Lacy's commission and then got asked to do another one and she was like, "Sure, sure."
But Wendy had already started thinking with a business mindset, and asked for a 25% nonrefundable deposit.
"Collectors might change their mind and my work is worth that. Locking collectors in is something that I've learned and that has already become a standard practice."
I'm currently doing my biggest commission yet. The collector lives in Calgary and I used ArtPlacer to virtually hang a series of my pieces on this giant wall she has and she decided to go with an eight-foot painting. I always ask the collector for pictures of their room and of the wall they picture the art on and use the My Space tool to start the conversation.
During 2021 I also experimented with eight by eight canvasses (teeny, tiny canvases). I just thought of quick paintings, things that I wanted to try with a looser style and started placing them in ArtPlacer rooms. The positive feedback was huge.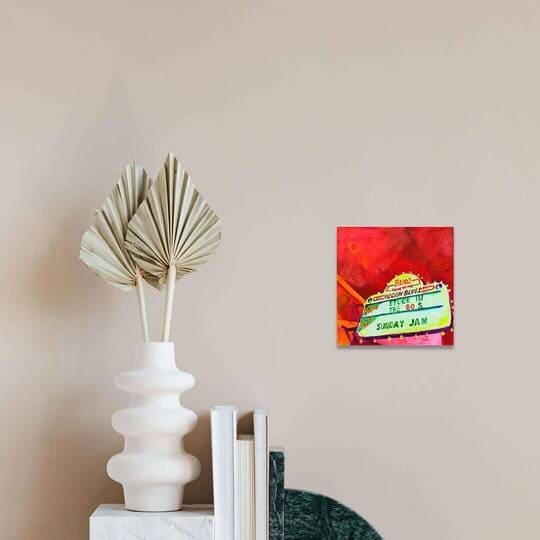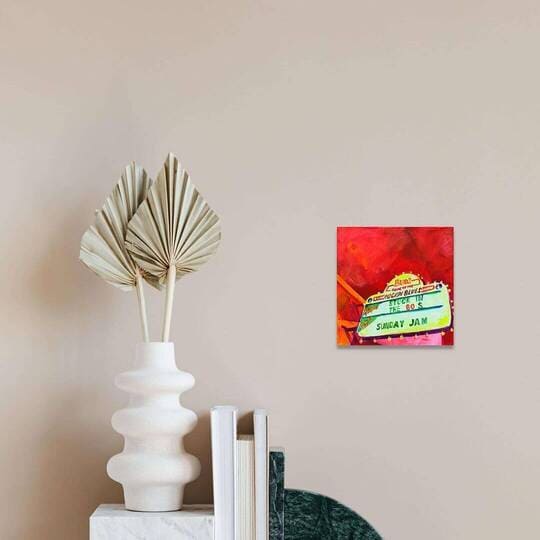 Room mockup of "Bud's" by Wendy Sharpe. 8" x 8", Acrylic on canvas.
Those little paintings and how they were displayed was the next step up. People started looking at how they were placed in rooms and it took it from being a dirty studio WIP and these paintings that you couldn't really visualize in a space, to coming together as a whole in these beautiful spaces, looking like that's where they needed to be.

Building meaningful relationships
I'm always thinking about the collector and making shifts and adjustments. As I'm painting, I'm thinking….What makes this building special? Lacy's building had this very colorful mosaic. The rest of the landscape is important too, but what really makes this building special is that mosaic.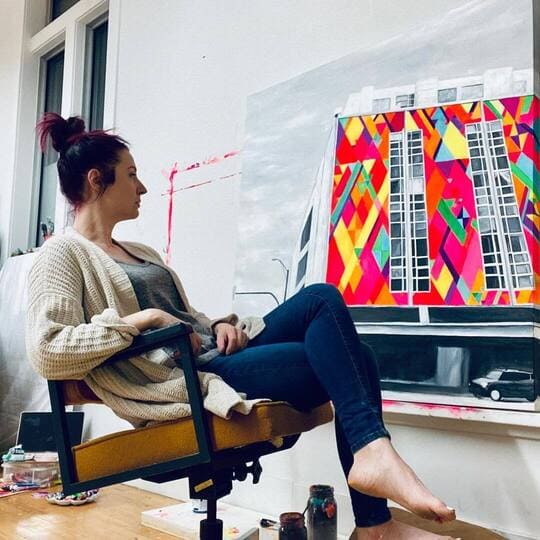 Work in progress shot from Wendy's Instagram.
The people are not just collecting your art. Every time they look at the painting on their wall, they're going to think about the whole experience they had with you.
My business coach once told me, "Stop thinking about it as sales". Of course you're selling something, but above all, you're building a relationship with people. Make them tell you about this landscape and why it's important.
The story won't just be of the landscape, but of the interaction that the collectors have with Wendy. She likes to check in with them during the creation process, sending behind the scenes of her studio and work in progress shots. She wants to make sure that she is not just doing a nice painting, but a kickass one.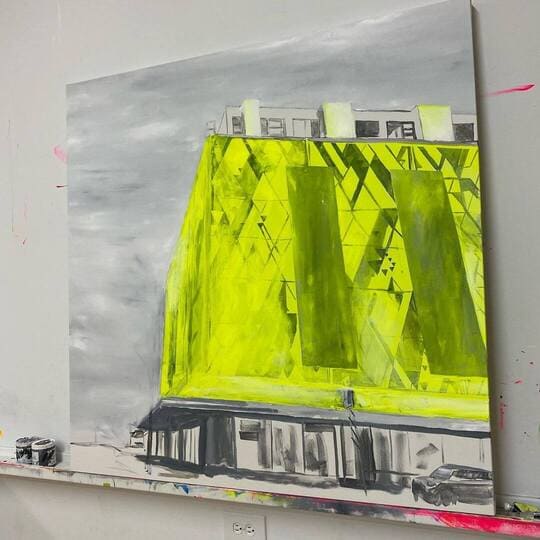 Work in progress of Lacy's commission.
Making work that matters 
People are such a huge part of my process. I treat the buildings almost like sacred spaces, especially the ghost towns.
People have spent a lot of time in these spaces. Maybe someone's grandmother worked there or a ninety-two-year-old woman who swept the steps of that church every day, who planted the flowers or whatever the story is. Or maybe it's the light of that school that reminds someone of this other school he or she attended.
My buildings kind of remind people of these experiences and I love the stories that people share back with me. It's my favorite thing, I just love it."
At the beginning of last year, before the pandemic shut everything down, I did this painting called the Odessa. I painted it and delivered it to my local dealer on their opening day, a week before the entire city shut down because of COVID.
The painting had been there for a day, and then, it was sold. Someone took a picture of the opening, posted it to their Instagram, a friend saw the painting in the background, and her husband's grandfather had just sold that store the summer previous one. She contacted my dealer, went and looked at it and took it home.
The thing that blows my mind, the thing that kind of gave me that initial confidence of "I can do this" is that I'm making work that matters.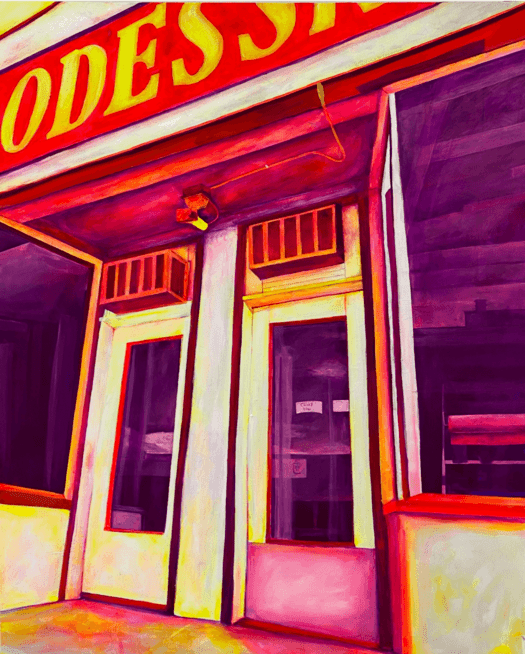 The Odessa by Wendy Sharpe. 60 x 48 x 1.5 in, Acrylic On Canvas.
To learn more about Wendy visit her website.