Rob Strain is an Arizona-based artist who discovered a love for photography in his teenage years. With over six decades of experience, he has found a particular niche for his photographic work focusing his eye (and lens) on the beauty of the American southwest landscape, where light and color bring a particular scenery to life.
Designing his most recent photography exhibition was an exciting challenge to take over. Wanting to highlight a variety of print samples of his work he ran into a burning issue for artists curating their shows: how should the pieces be presented? Which frames should be used? What would be a smart use of the space? Putting his creativity to work he found a time and resource-saving solution for it: creating a digital art fair booth with the help of ArtPlacer's Personal Spaces to use as the blueprint for the IRL (in real life) show. 
The ArtPlacer team had the opportunity to talk with him about the curation process, his experience as a photographer, advice for newcomers, and how digital tools are helping him bring to life his ideas.
Strain captures with his lens the colorful landscape of the American Southwest.
What would you say is your "background"?
I started with photography over sixty years ago. Most of what I did over the next forty years was black and white photography for purely personal use, but I did have a short stint as a wedding photographer. My primary business was as a cosmetic dentist and that led me to some technology that helped cosmetic dentists show off their work. I did my portrait photography in my office studio, which was pretty unusual for a dentist.
Other dentist friends became involved in taking a number of landscape photography workshops, so I joined in. I believe the interest in facial beauty carries over to landscape photography, which is yielding results in photography now that I have retired from dentistry.
What are you currently working on?
I am developing my landscape photography business through a newsletter, an upcoming show, and developing relationships with potential buyers. I always have some other ideas in the back of my head about new projects just to whet my creative appetite.
A side-by-side comparison of Strain's in-situ show and his virtual room design.
Why did you consider it helpful to design your upcoming show using ArtPlacer?
I actually purchased ArtPlacer to demonstrate some of my prints on walls for clients who had approached me. Discovering that I could use the Personal Spaces feature to design my gallery was just a bonus. After I signed to ArtPlacer, I visited the gallery where the show would be held and took pictures of all the walls.  The result of using these images was finding out that the show looked much better if I removed six pieces of art. Printing (myself) and framing those six pieces would have cost me at least $1000, I was delighted with my savings.
Defining his work as "photography of American Southwest landscape" has helped Strain reach his niche of potential customers.
Would you say this experience is beneficial for independent artists? If so, why?
Anyone whose art is good enough to sell needs a way to help the potential buyers visualize their art in a home or business. It doesn't even have to be the best art. I believe that adding ArtPlacer images to my website presents me as a professional artist to be taken seriously, not just another amateur.
A creative use for "Library Spaces": creating mockups to present on your professional website.
How do you seek out opportunities?
My newsletter and shows are my current "drawing cards", and they demand considerable time and effort. I plan to approach designers and professional businesses, especially doctors' offices. I will definitely use ArtPlacer in this regard.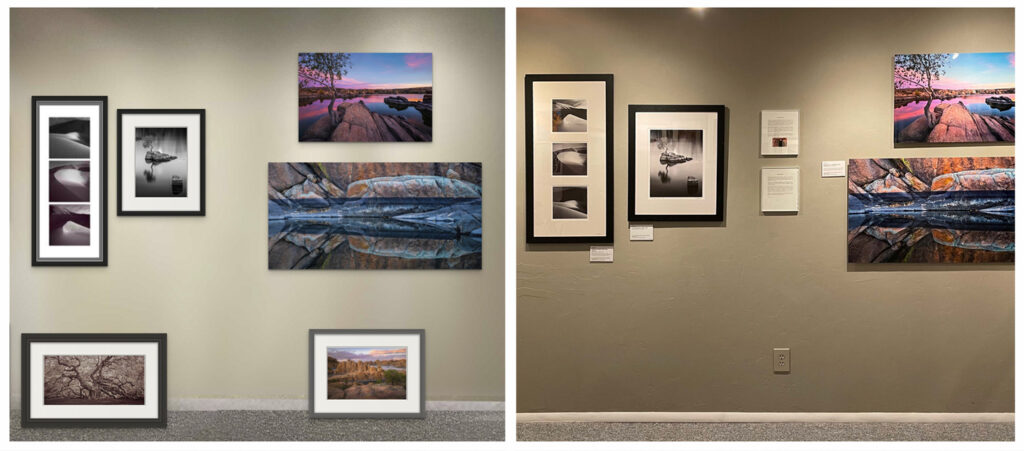 For Strain, digital tools have been fundamental in increasing the reach of his art business. Example: a side-by-side comparison of his virtual room and in-real-life art show.
What piece of advice would you give to your fellow artists?
My advice is about the same as a consultant gave me for my dental practice:
1. Learn: Make yourself an expert through education, practice, and writing about what you do.
2. Market: Discover what makes you unique and let others know about it. Doing YouTube videos could really help. This will help you believe in yourself and your art.3. Sell: Develop some sales skills using open-ended questions or statements. For example, instead of saying: "Are you interested in my kind of art?", say "Tell me about a location in your home where this piece would look the best," or "If I were to paint/photograph a piece just for you, what would it look like?".
As you can see, letting your creativity run wild and finding new ways to show your work can open doors in the art world. ArtPlacer tools for art professionals (new and seasoned) have many uses that can help you expand your audience and reach a new pool of customers. What use would you give them? Give it a try!
Rob's photography captures the dramatic landscapes of the southwest with a peculiar perspective. Visit his website to learn more about his work.
This interview has been edited for length and clarity.