Planning an art exhibition is an exciting challenge for artists and galleries.
It calls for a perfect mix of planning, creativity, handling of resources, communication strategies, and, of course,
working with art pieces to showcase them in the best way possible.
If you have already started the process of planning an art exhibition or you are still in the early stages of a possible in-situ art show,
follow these steps to plan it and learn how to integrate a digital tool to curate your art exhibition in advance
saving time and money, while also preventing unnecessary handling of the artwork.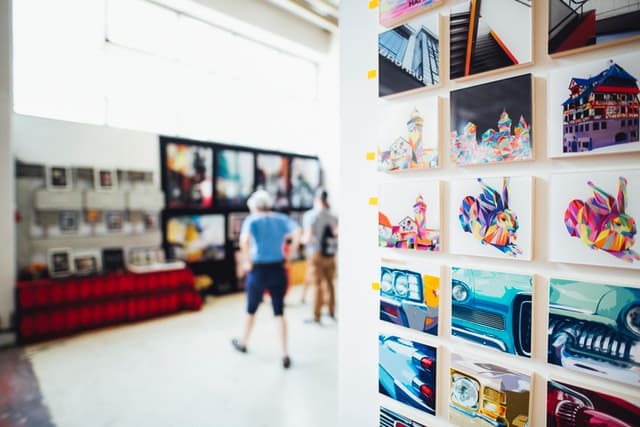 Planning an Art Exhibition is an exciting process that requires detailed previous organization.
6 Steps to follow to plan an Art Exhibition
From an intimate art show to the traditional art fair booth and the big gallery or museum exhibitions,
all art exhibitions have the same idea at heart: creating a space where art lovers, collectors, artists, and connoisseurs can interact with a certain group of art pieces
, share the experience and connect through it.Coming up with the right set of art pieces to show, defining the layout, creating an atmosphere, and even inviting people to the event, everything has a time and place in the organization process of an art exhibit. The important thing is: you can't miss a step!
Follow this checklist and make sure you are taking care of every detail in the planning of your art exhibition:
Choose the right event or art fair
Select the artworks that are going to be shown: is there a common theme or subject? How do these pieces interact with each other? Curating your exhibition is the base of the whole show.
Define the layout of the artwork in the provided space: think about the atmosphere you want to create, the harmony between the pieces, and the experience you want the visitor to have. Give yourself the time to play around with the layout and find the perfect spot for each piece with ArtPlacer's Art Fair Planner.
Plan the logistics: an art show involves a lot of careful and detailed art handling, from framing and hanging pieces to making, this is a particular point in the planning process where you can save time and resources by making smart use of the space and defining a good layout.
Make a press release: write a statement and reach out to media outlets, invite journalists and art critics
Promote the event: let people know the show is happening, get your online audience involved, create an online promotional strategy, and, also, think about the possibility of making the exhibition a hybrid experience and how some simple digital integration can enrich it. You can also, create a brochure of the event and think about printables or any other information visitors might want to have access to.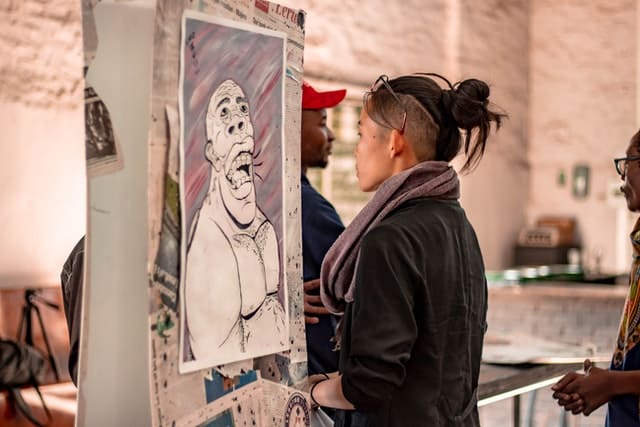 Digital tools like ArtPlacer's Art Fair Planner help galleries save resources by enabling them to create the layout on a scale-accurate space.
Tools to plan an Art Exhibition successfully
Organization is key to planning a successful art exhibition.
There are many digital tools that can help in each step of the way from automation platforms for email marketing campaigns to apps that help you schedule and target social media content to reach potential customers.
But that's not the only way digital tools can help you plan an art exhibition successfully.
An art show implies the handling of numerous art pieces and the potential risk of mishandling and damaging the work.
ArtPlacer's Art Fair Planner is a new solution to an old problem
. This tool enables artists and gallerists to
design the layout of an exhibition in a digital space that mimics an art fair booth,
where they can place the selected artwork in its correct height and width. A process that once was time-consuming and done by mixing several resources like photos, image editors, sketches, and in-situ measurement of the space, can now be solved with a few clicks, with a single tool with integrated sharing options.
Lindsay Hamm, Director of Curation and Acquisitions of West Chelsea Contemporary explains it in this way:
"As a national contemporary art gallery with locations in New York and Austin, we use ArtPlacer to layout our exhibitions proactively (…).
My favorite feature is the ability to build your own walls, an easy way to layout the various art fairs we attend throughout the year
."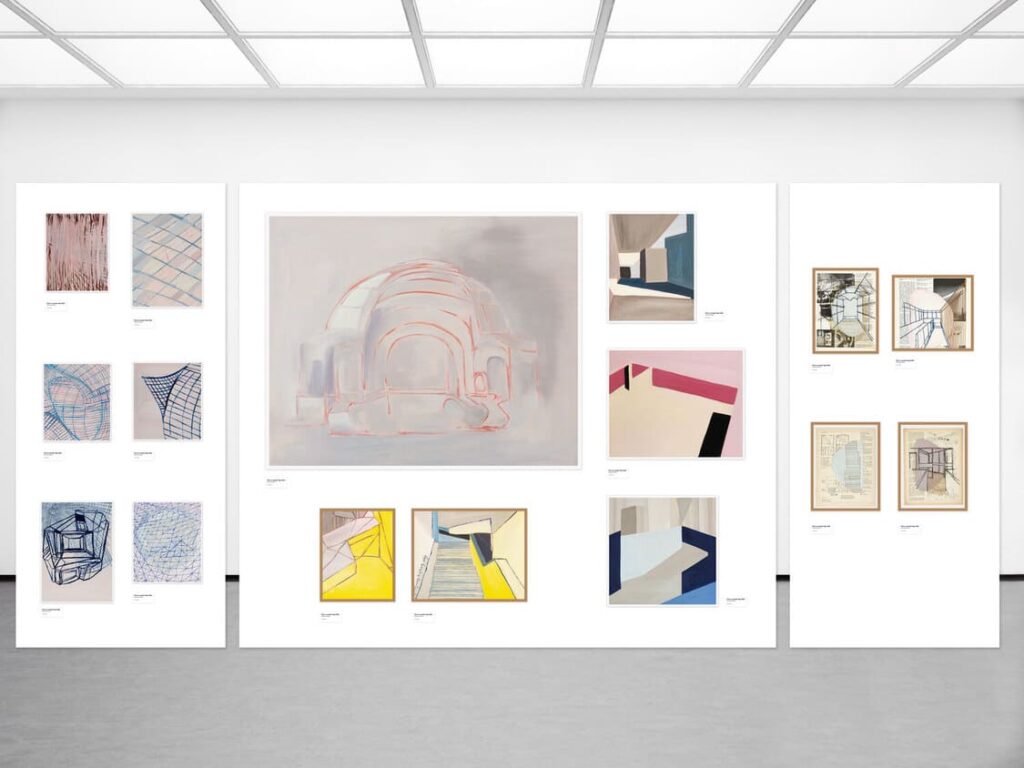 With ArtPlacer's Art Fair Planner gallerists and artists can create the layout of an exhibition in advance.
How to plan an Art Exhibition with ArtPlacer's Art Fair Planner
Planning your art exhibition has never been easier.
With ArtPlacer's Art Fair Planner you just need to log into your account and click on the "Spaces" tab. In the following dropdown, menu select the option "Personal Spaces" and click on the "Create New Space" button.In the next view, you can name your project and select the option "Booth Wall" on the dropdown menu and click on "Save and Set Up Walls" to
start designing your art exhibition layout in the correct scale. 
You need to
define the walls where the art pieces are going to be shown:
to make the best out of this tool you need to
enter the width and height of each one of the walls
where the artwork is going to be placed.
ArtPlacer's Art Fair Planner gives your several customization options:
you can choose the color of the walls, and add other walls to see a full display of the space.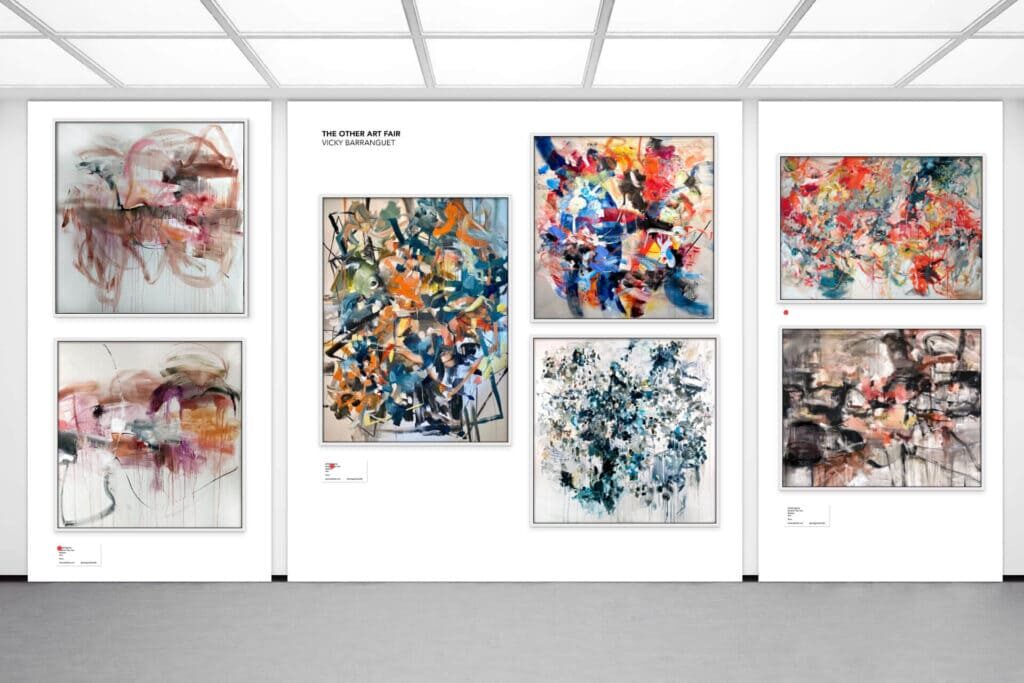 Also, once you
"drag and drop" an art piece into the wall
to find the perfect spot for it you can customize it and
add a frame
(
you can even design your own
), adjust brightness, shadows, and contrast to achieve a realistic look. Play around with the positions and find
the perfect alignment for your artwork
.Once you have achieved the perfect layout for your art show you can
save the setup, download
it for
printing or share it from the ArtPlacer Art Fair Planner by email to your team
to have a clear blueprint of how to get the artworks in place or erase the "distance" factor and send it to art fair organizers in other cities or countries to explain how your work is going to be displayed accurately.Give it a try and make the best of each exhibition opportunity.