Last year, the COVID-19 Pandemic took everyone by surprise. In order to better understand the tactics of thriving working artists, we've spoken with 4 ArtPlacer artists, situated in different art scenes across the globe: California, USA, London, UK, Lake Mary, USA and Kuranda, Australia.
How are these artists increasing their sales in a pandemic?
Four artists, four challenges
Emmeline Craig is an artist, life coach and entrepreneur from California, USA. She had been successfully managing her art gallery since 2012, but COVID shut it down last September.
Emmeline was recovering from an injury, the virus was keeping people in their homes and the new owner didn't want to lease the space anymore.
Frank Creber is an artist based in London, UK. He misses how people used to get together in crowded galleries on a weekly basis, meeting and socializing at Preview Nights. He wonders if this can also happen online.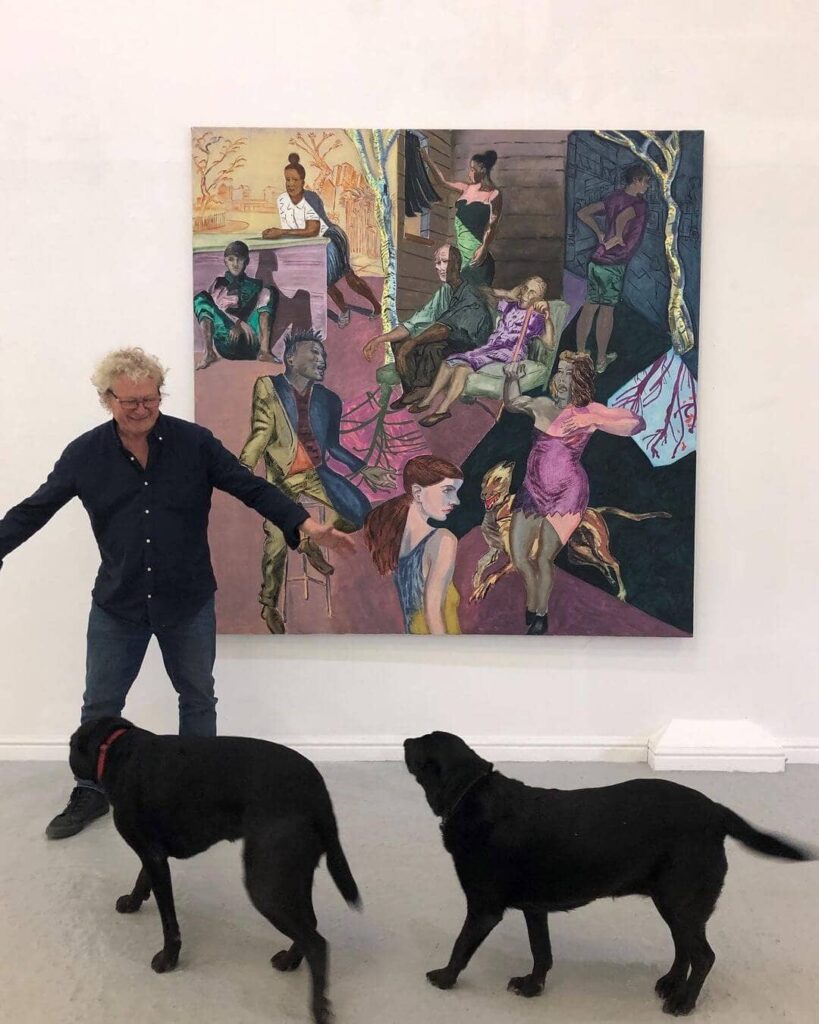 Frank Creber having fun at a gallery.
Didi LaBaÿsse is a self-taught artist and gallery manager that lives in Kuranda, a small rainforest village in Australia. Last year she made some sales and is now investing back into a new venture: refurbishing her art space for bigger and better.
Susann Kaltbaum is a fine art artist based in Lake Mary, Florida. Before the initial lockdown in March 2020, she worked with interior designers but relied mostly on in-person connections. After lockdown began, she invested time in researching designers and reaching out to them on multiple platforms and the response was immediate.
Build a strong online presence
Emmeline Craig had an old school approach to selling art. The big change for her was the transition from having a brick-and-mortar gallery to an online website and profiles. "My challenge was to still reach people who resonate with my art and still be visible to them."
Other artists, such as Frank, already had a digital presence when the pandemic hit. Online sales through artists' websites, and marketplaces have been continuously rising. "Collectors seem to be choosing to spend more time than before searching for work they like online. This has caused me to devote more time to organizing, cataloging and uploading my current work to online galleries. I am also hoping all the time my online Brand image and social media presence will develop and improve, but creativity doesn't work in a straight line… "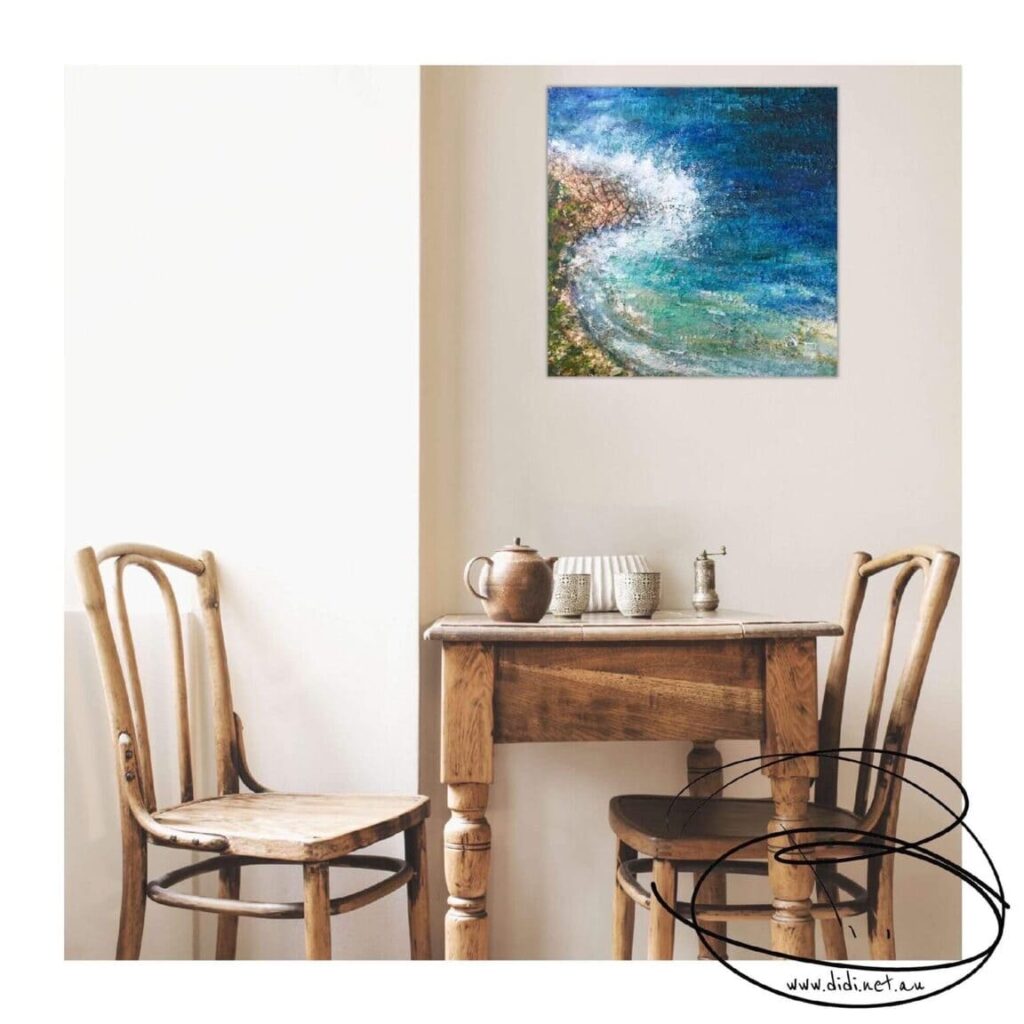 Didi's artwork virtually hung in an ArtPlacer room.
Building a powerful and coherent personal brand can get your work into the spotlight and incite the curiosity of a broader audience. To achieve this, you'll have to dig deep into your artistic personality and explore what sets you apart from others. To help you create this online image you can use the art marketing platform ArtPlacer to virtually frame your artworks with frames designed by you, to land beautiful previews of your art pieces at scale in curated home interiors, art fair booths, and galleries. You can also create event-driven opportunities such as 3D virtual shows, which can be private for recurring collectors' eyes only or public to reach a worldwide audience.
Emmeline is redoing her website to be more aligned with the feeling that people would feel when they entered her gallery, that first impression. "That's the window on the world, that carries my energy."  Her new site has a serene and relaxing vibe that empowers and nurtures the viewer. She has integrated ArtPlacer technology to allow visitors to see the art on their very own walls with just a few clicks. By doing it, the objections to purchasing online clear up: "Will this fit?", "Will the colors match the ones of my space?", "Will it look okay?".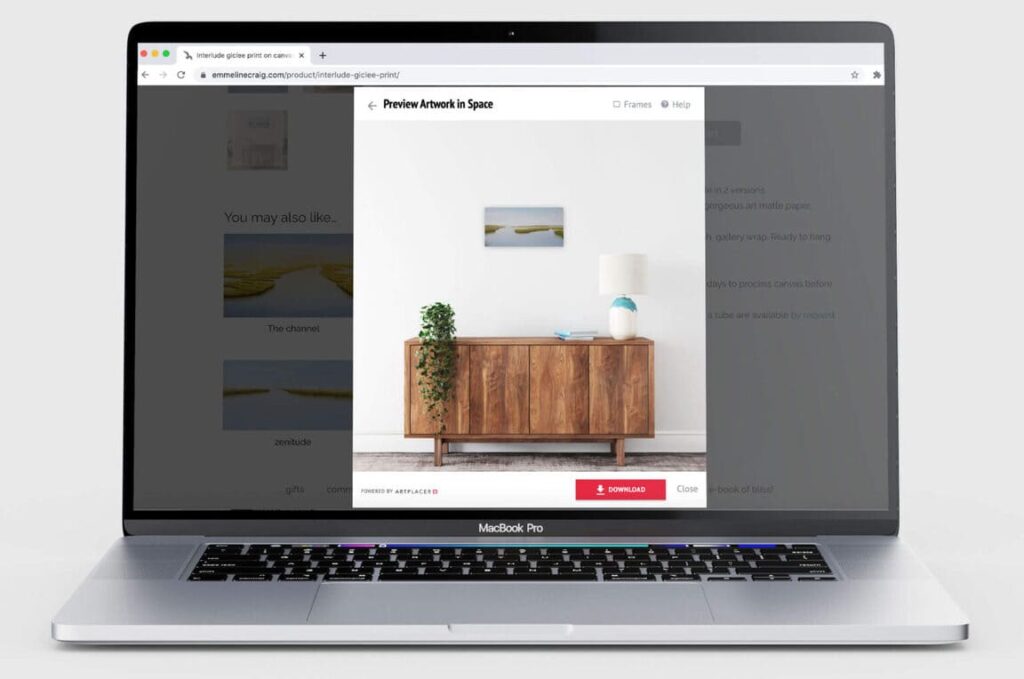 Emmeline Craig has integrated ArtPlacer on her new website.
Visitors can upload the image of their room and see if the size fits appropriately, if the colors of the artwork match the current design of the room and if the overall look of the space feels right.
Didi LaBaÿsse is the exception to the rule. She lives in Australia, a country that has been lucky regarding the Pandemic. Although tourism in Kuranda has dropped and many shops are struggling or have closed their doors, Didi's gallery is thriving.
"I didn't want to sink, I wanted to sail…" Instead of closing, she has moved to a bigger space and made big changes. She is investing to create a unique venue incorporating her studio, art gallery, exhibition space, workshop space and antiques display to create a particular ambiance, and a unique decor to display her artworks in.
"I am investing quite a lot for the passion of art as I see the bright things in life and want to share it to my viewers. A happy creative space where positive energy will be shared through."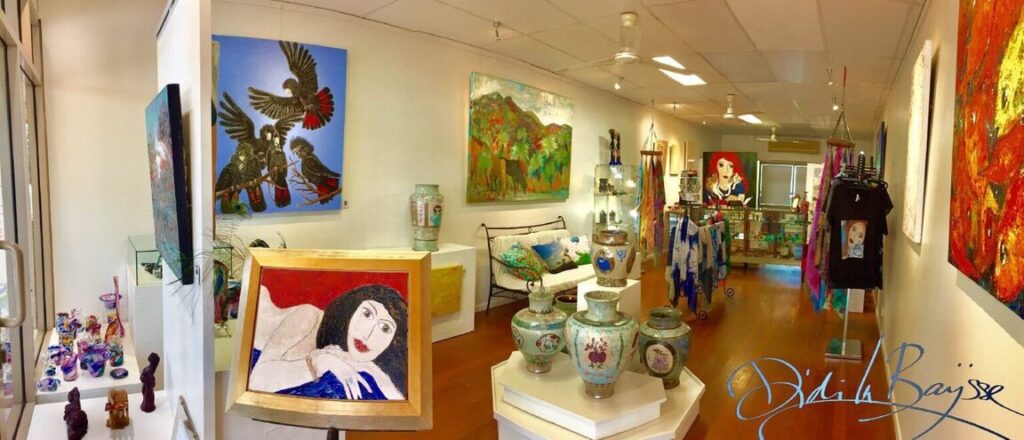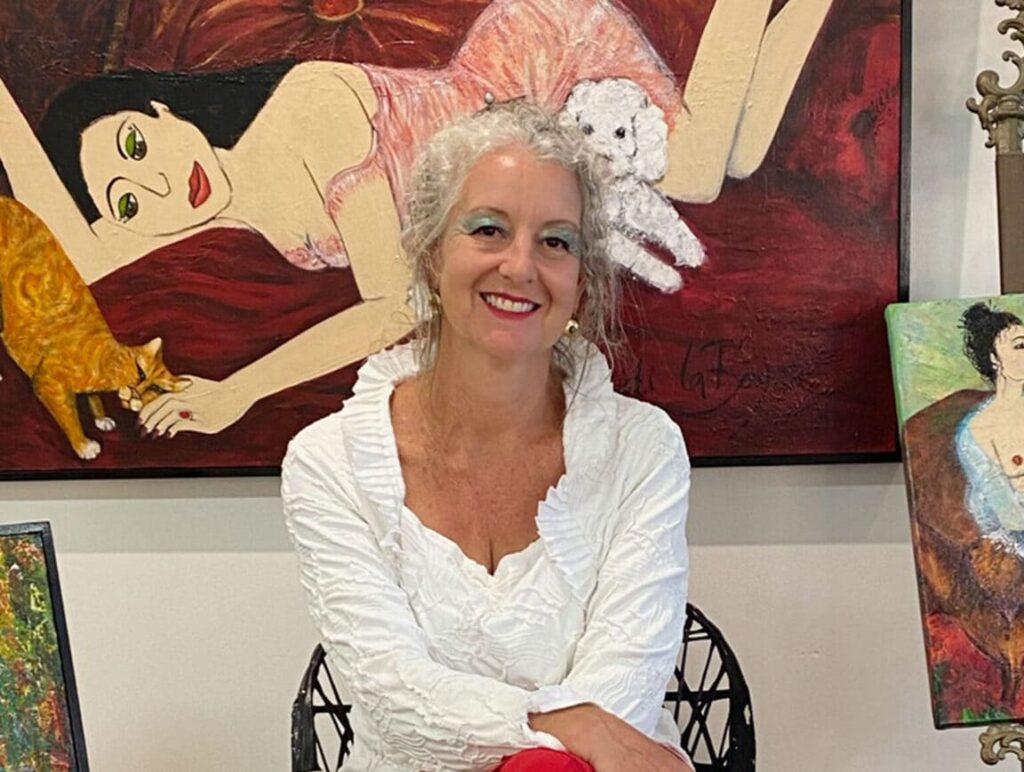 Didi at her studio and art gallery.
Create meaningful relationships
For Suzanne Kaltbaum, business as usual just hasn't been this past year. With a large dose of hard work and dedication she started reaching out to interior designers via email, on LinkedIn, Facebook, Instagram and other platforms. And since they were not able to visit showrooms or art fairs, she was glad to find them online, looking for new products to wow their clientele.
"I created new strategies and tactics because I knew there were others out there, like me, in lockdown, still searching for the hope art brings." Suzanne takes time to research and reach out to people directly who she considers would be interested in learning more to partner or purchase her work. Since everyone is busy it's important to really connect if possible, and as soon as possible.
To capture the audience, she sends visuals that speak for themselves, along with a brief introduction. These visuals are mostly layouts of her art hung in exquisite rooms, created with ArtPlacer, and close-ups to see her works of art in detail.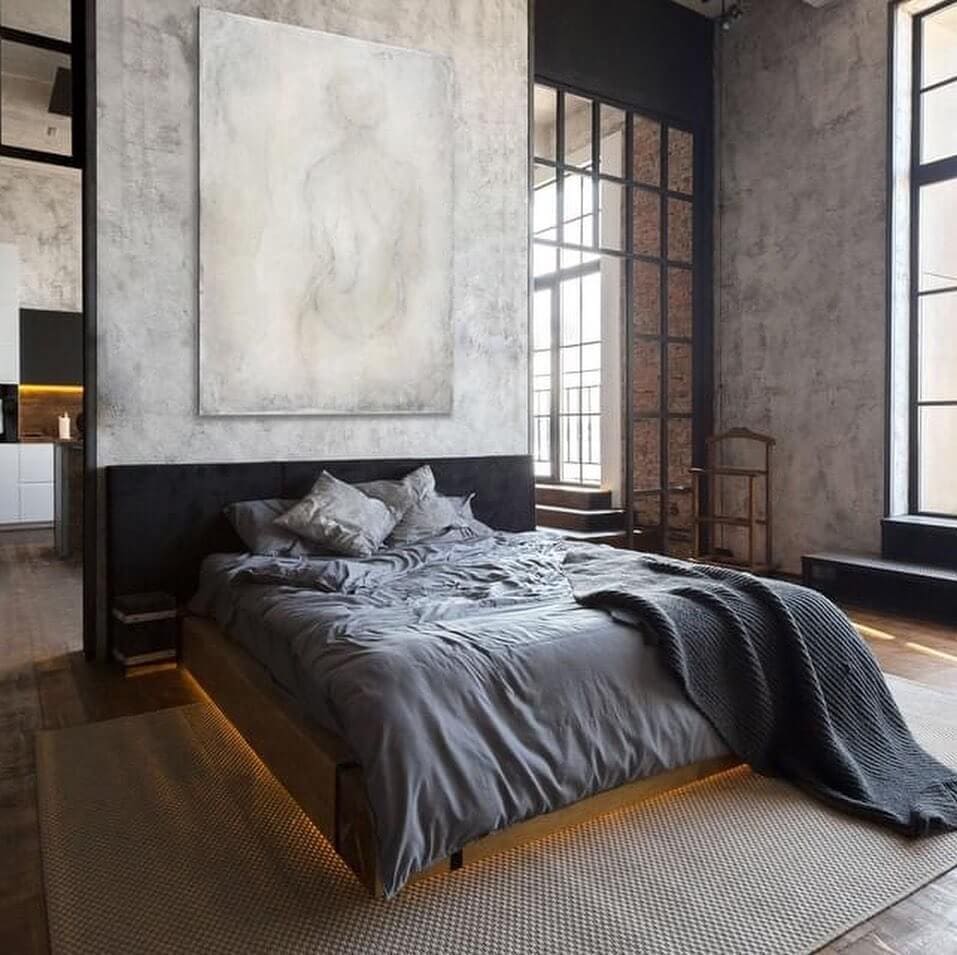 Suzzane sends emails with gorgeous visuals of her art in place.
When Frank Creber looks back at certain points of his career, he recognizes that a lot of the business of developing as an artist is about personal relationships. "If I have impressed someone through my work, this has led, sometimes years later, to an opportunity opening up for me".
Emmeline has clients in several continents like Europe and Asia and also loves connecting with people. Getting in touch with people who are far away is not new to her, but it's new to meet them like this. Before, they entered her gallery and had a nice conversation whereas now they meet virtually.
Emmeline's and Suzanne's tactic, when someone engages proactively, is to invite them to a WhatsApp or Zoom call at their convenience. In that way, they can show them their studio and art up close. For Suzanne, "The best thing to do is treat each conversation like a chance to showcase who you are and what your art stands for. Typically, once I can get my art in front of someone, they are hooked."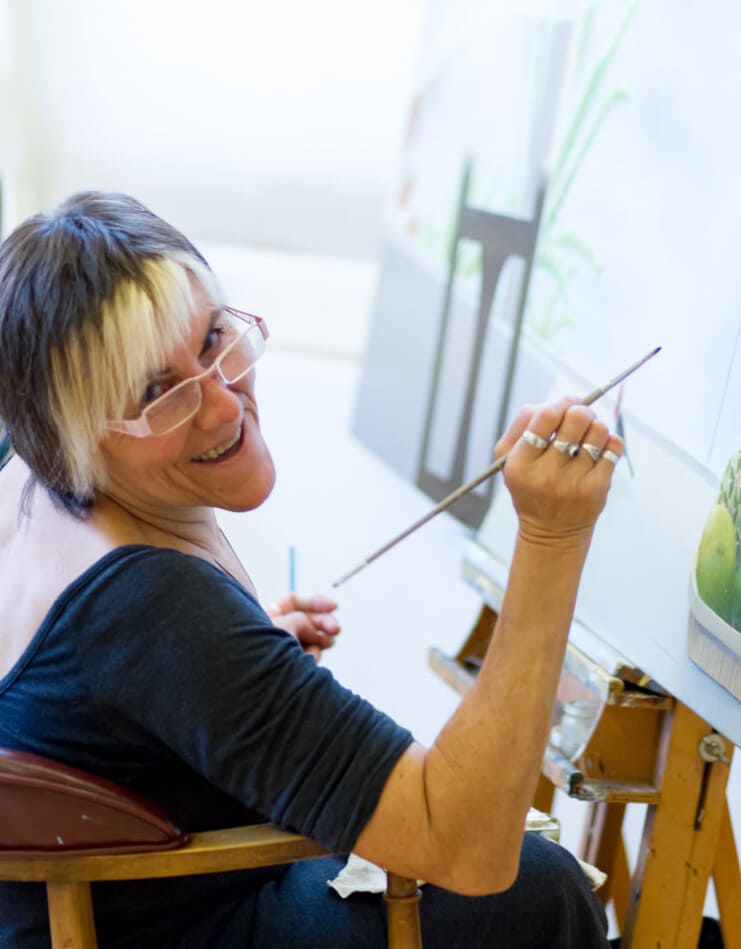 Emmeline Craig at her studio.
Steps for Success
Things are changing in the art world. Our advice is not to fight this but to be very open and embrace it. Through partnering with ArtPlacer and proactively using the platform's technological and promotional capabilities, artists can build a strong brand image and a website that lands sales.
Suzanne's advice is hard work and creative adaptation. "Becoming an entrepreneur takes incredible work and even through a pandemic, you need to find new ways to adapt and create." Whereas Emmeline thinks artists need to change the paradigm and there is nothing better than art to do that. "We need to stick to the essence of what we do. We don't have to be distracted by the media, the fear. We need to slow down, paint what we are inspired to paint, and send out our message. Things will find their way."
Frank encourages artists to cooperate between them by showing support through social media. "Showcasing work online may not have the same emotional immediacy as an in-person show, however, there is a tangible sense of support I feel from friends, family and collectors when they comment on my work."
Didi's recommendation is to think outside the box, to get creative and find a way to expose yourself as an artist with the tools you have available in your area. "We are much needed in the community and we need to show what we can do as it will bring joy to others."
Big thanks to artists Didi La Baysse, Emmeline Craig, Frank Creber and Suzzane Kaltbaum for sharing their insight.