There are many ways to start a curatorial process. You may have an idea in mind, you might like a theme, or you might want to work with a particular artist. An interesting dialogue between art pieces and audiences will have to be created to convey a theme. In this article, we will give you information and tips on how to design a marvelous exhibition.
Etymology
Curating comes from the Latin word curare which means "to take care". A curator preserves the heritage of art, selects new work, connects to art history, and displays art in space. Throughout the years, exhibitions have become extraordinary experiences and millions of people attend galleries and art-related places every year.
Conceiving a Theme
Thinking about a unifying idea or motif is usually the fun starting point. Whether you are you going to showcase new talent or do a cultural exchange, writing down your ideas is key.
The broader the theme, the easier you'll find works to fit in that theme. However, the more particular it becomes, the more cohesive your show will feel like.
Choose a nice notebook and start creating your statement.
Know the Audience
This is one of the most important aspects of the art-related business. You need to understand who will be interacting with the space. According to that audience, which artworks will work best to tell the story of your exhibition?
Work with the gallery staff to start a conversation about the people of that location.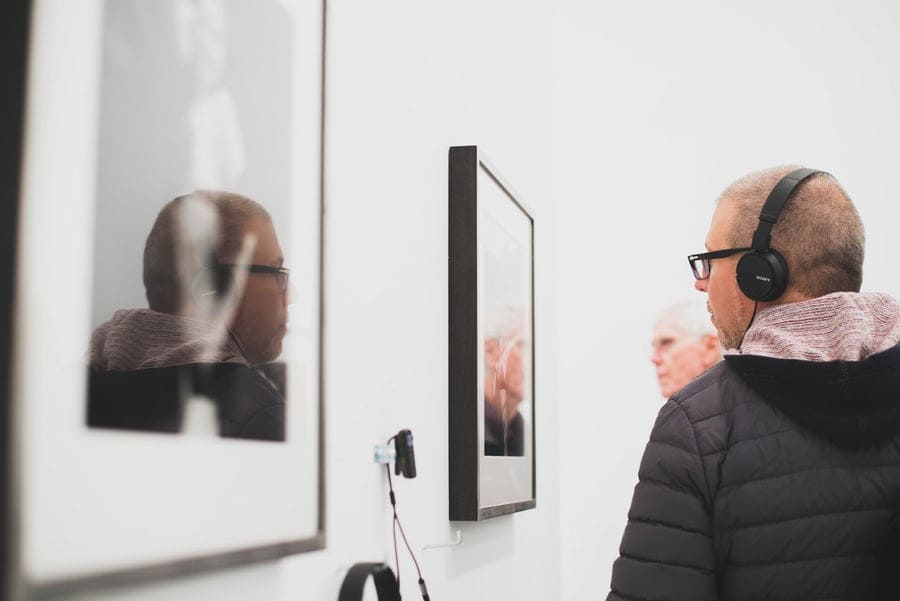 Space
Imagine the space in your mind and how viewers will walk through it. Know the parameters of your space, get floor plans, take pictures, and start mapping out a layout.  Are you going to start with an anchor piece? Would you rather start with a combination of more subtle pieces?
16albermarle is a new project space in inner-city Sydney showcasing contemporary art from Southeast Asia. In conversations with the art adviser John Cruthers, he describes how ArtPlacer, an art staging app helps him in the process of arranging the work.
"We chose ArtPlacer to plan our exhibitions because of its range of features, flexibility and ease of use. We have enjoyed using it to date and look forward to trying it with more complex installations over the next months."

– John Cruthers
ArtPlacer is a powerful tool that allows users to instantly hang artworks in rooms with perspective and in their exact scale. You can combine artworks on walls and see what they will look like at the gallery.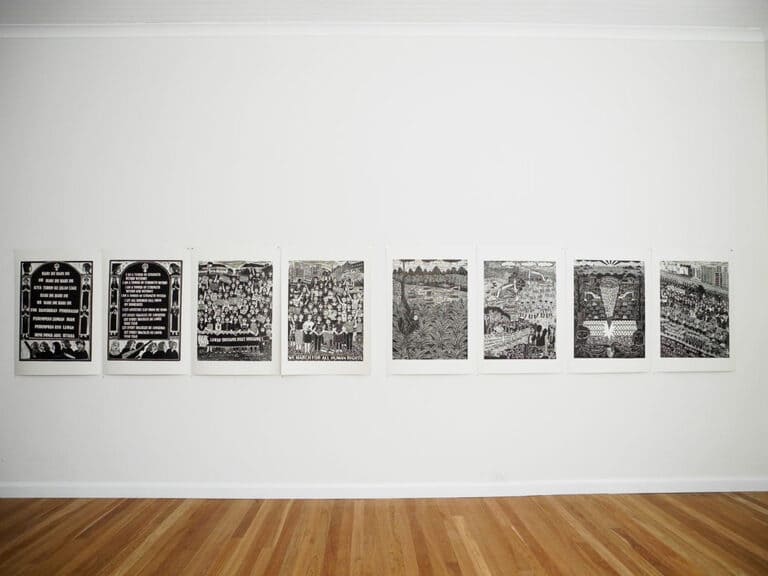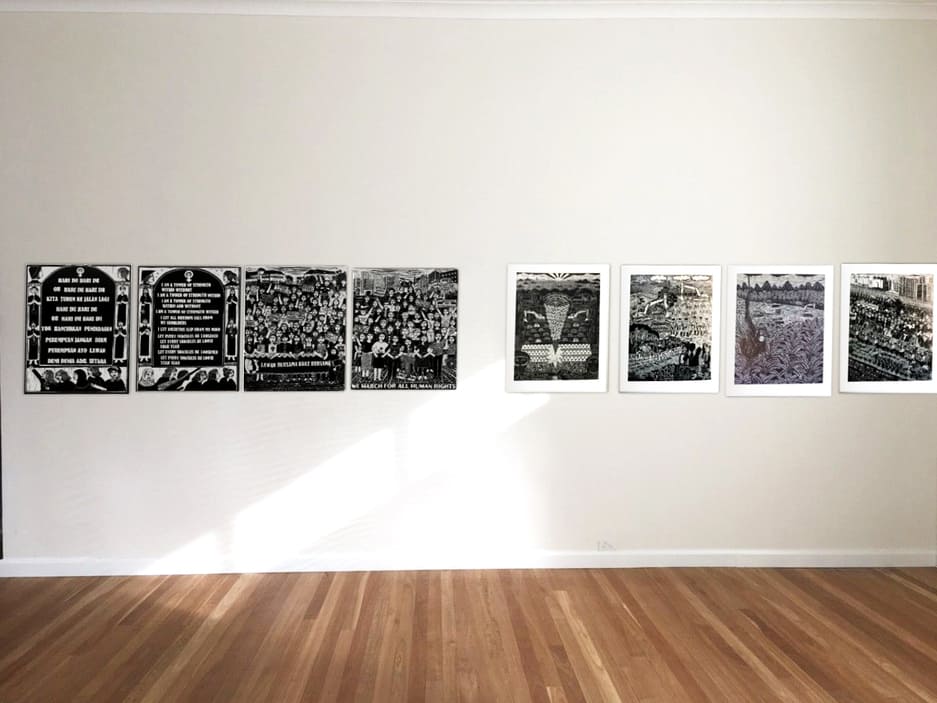 This software becomes a great ally when it comes to curating shows. First, you will need a digital copy of the artworks you are taking into consideration. Take high-quality pictures, type in the name and dimensions and remember to number each piece. If you need advice on how to inventory your artworks you can read this great article.
Start by choosing a big number of pieces and slowly narrow your selection as you evolve in the process of being true to your theme.
In order to put a space together, you will also need pictures of the museum or gallery walls. We are living in a digital era, so you can ask the staff to email you the images. Nevertheless, I strongly advise you to visit the place to grasp the atmosphere of the site and surroundings.
Once you've gathered this information in combination with the floor plans, you are all set to create spaces in ArtPlacer. This software is the only one in the market that works in rooms with perspective so you will be able to focus entirely on your creative vision. No need to be adjusting anchor points or shades in Photoshop. No time was spent guessing about the actual dimensions of the art and the walls.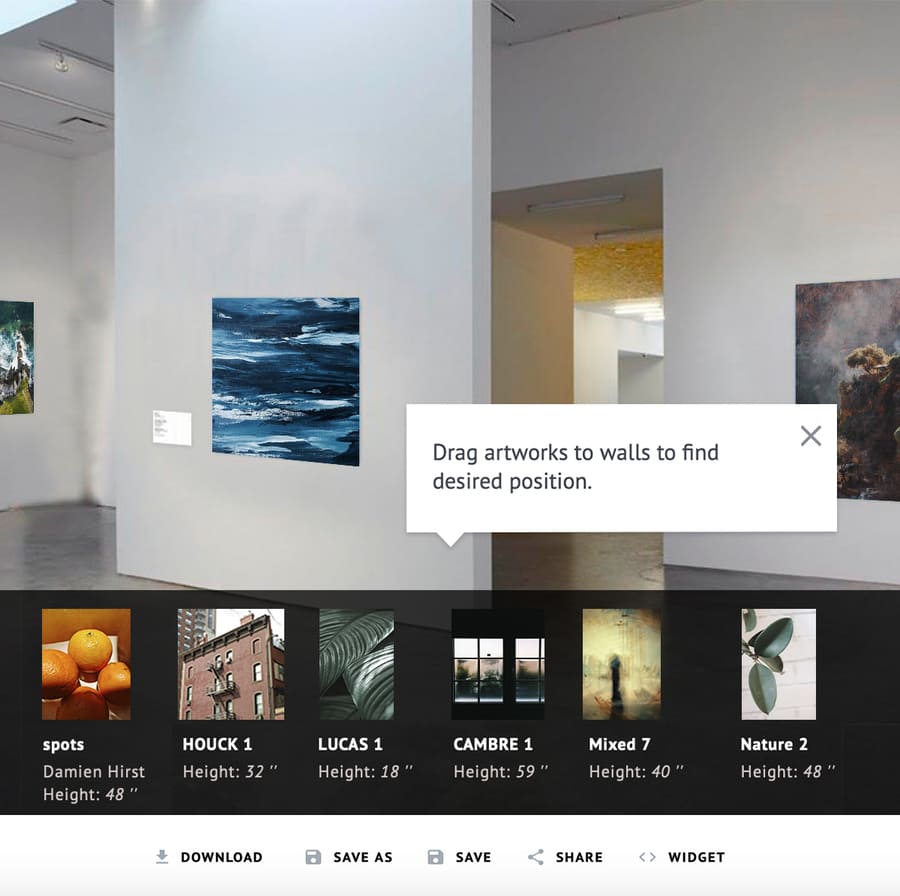 Organization
Build a calendar with key dates and deadlines for each stage of the project. Working backward from the opening night can be helpful. You will be multitasking, so carefully time manage and develop a plan. There are plenty of tools such as To do Lists, phone reminders, and planning apps. Deadlines will be short so make time to sit down and consider every detail.
Conclusion
Create a positive environment for all the people involved. Set time goals and cross them out once accomplished. See how art pieces will come together and how the theme will be conveyed. Imagine the viewers interacting in that space. Open a bottle of champagne.