At ArtPlacer we are always brainstorming ideas to give artists powerful tools to market and sell their art and make their business thrive.
You can share your art with a global community with exquisite digital room mockups, visualize it in potential client rooms with Augmented Reality Technology, or step up your presentation and create a whole experience around your pieces by designing your own 3D Virtual Gallery.
Building your virtual exhibition is a simple, intuitive, and cost-effective way to showcase your art. Keep reading and learn how to create your own virtual art show.
What is a virtual exhibition?
Virtual Exhibitions open a new set of possibilities for artists. These are 3D online customizable galleries, that visitors can navigate through and interact with your art, as they would do in a physical gallery. The best thing is: a virtual exhibition is open 24/7 and is accessible to a worldwide audience.
ArtPlacer Virtual Exhibitions offer a variety of settings to showcase your art: from intimate galleries to museum-like spaces and even art fair boots. You can customize wall colors, floors, and ceilings to enhance your selected artwork.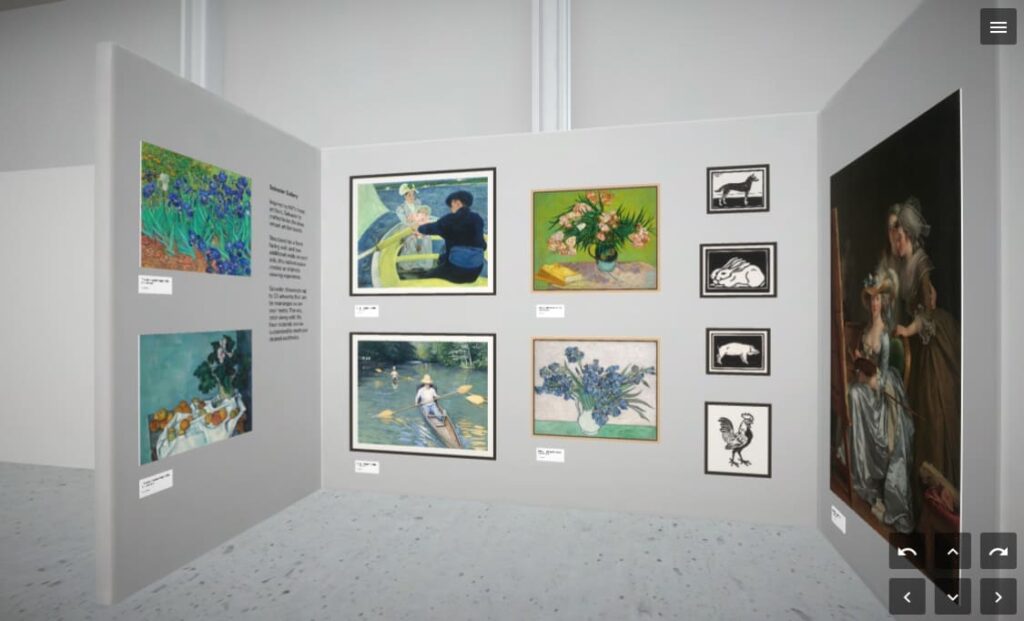 Example of a Virtual Exhibition created with ArtPlacer.
Acknowledging the fact that we live in a hybrid world where digital and physical experiences merge, Virtual Exhibitions give artists and gallerists the chance to take their physical shows to the online world. You can emulate your physical exhibition and create an interactive experience for your visitors with ArtPlacer's integrations, or you can even opt to replicate your existing physical gallery online.
How to create a virtual exhibition?
With ArtPlacer you can create a virtual exhibition and showcase your art in a matter of minutes. Just follow these simple steps to create and curate your own online 3D art show: 
-Pick a theme for your online show: have a theme, subject, medium, or technique that binds them together. Aim for a cohesive concept or statement for your exhibition.
-Select the art pieces you want to showcase. We support a variety of files like JPG, PNG, GIFs, videos, and NFTs!
-Choose a venue: is it a small gallery, a booth, or a museum space? Think about it as the context for your visitor's experience.
-Customize your digital gallery: select desired texture for the floor. Choose a wall and ceiling color that highlights your art pieces. Remember: the idea is to create an ambiance that reflects your artistic view.
-Select frames: yes! you can pick the type of frames and mats to highlight your artwork.
-Layout your art pieces in the space: you can upload multiple artworks at the same time and play around with their placement to find the perfect setup.
-Add additional details: from the ArtPlacer Virtual Exhibition creator dashboard, you can upload a curatorial statement or a brochure, and even add description texts to your gallery's wall.
Now you just have to press the "Publish" button and make your 3D online gallery available to an international audience expanding your reach.
Promote your Virtual Exhibition
Virtual Galleries can be hosted on professional and business websites or shared via a link with your audience. Hosting your own online art show can bring new visitors to your page, this is an art marketing tool you can mix with your current selling strategies to make your business thrive.
Follow these steps to promote your own 3D Virtual Art Gallery:
-Create momentum: let your audience know there is a new event coming up via email or through your social media channels.
-Big opening: share the news with your followers, and let them know they can now enter and enjoy the show.
-Share captures or video tours of your online art show to keep people coming.
-Learn more tips about how to create a Virtual Art Exhibition that sells: keep reading.
Now that you know how to create and promote your own 3D Virtual Gallery is time to curate and share your artwork with the world.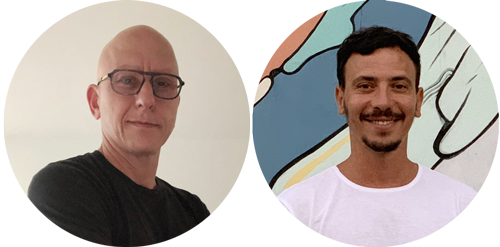 Nicolas Michael & Martin Zaleski, co-founders.