ArtPlacer Virtual Exhibitions offer a great opportunity to get creative and throw an online show whether in one of our Virtual Galleries, or in your own virtual replica of your Brick-and-Mortar gallery rendered by the ArtPlacer team.
Through intuitive navigation, visitors can "walk a gallery space" that provides an overall sense of spatial awareness. The entire collection and individual artworks can be approached from many perspectives and at different angles for an experience that mimics real life.
Attendees can zoom in, look at details, inquire and buy artworks directly from the website. Additionally, when visiting the art show on a mobile device, Augmented Reality technology gives attendees the chance to superimpose a favorite piece of art in their own living room or desired space – using the ArtPlacer free Mobile App.
"As a gallery owner and curator, having a robust online platform to create immersive exhibition experiences is no longer just a good idea but a necessity in order to stay relevant in the world today. A solid VR exhibition platform must be easy to use, cross-platform compatible and rich with customizable features to meet the demands of artists and galleries alike. After testing many VR platforms in the market, I'm excited to say ArtPlacer App has developed a premier service that provides everything I need to conduct successful online exhibition programming with time-saving features and excellent customer support."

– Sergio Gomez, Curator & Director at 33 Contemporary Gallery
Select Virtual Gallery environments
Begin by selecting a Virtual Gallery or renting a VIP one. View images and floor plans of the galleries. Take a virtual tour through an interactive demo that shows beautiful public domain art before making your selection. Or, contact us if you want to replicate your existing physical space!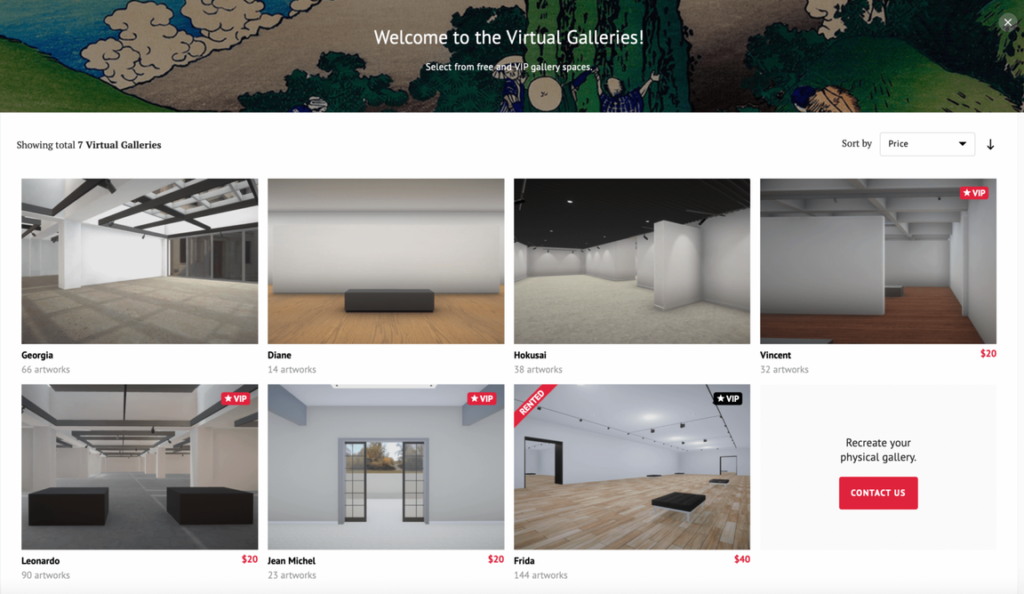 We currently offer 7 Virtual Galleries. "Hokusai", "Diane" and "Georgia" are included in the Premium subscription. "Jean-Michel", "Leonardo", "Frida" and "Vincent" are VIP Galleries, available for rent.
The Virtual Galleries are customizable, offering the possibility to change wall and ceiling colors, and floor textures to achieve the overall look you are searching for.
Add Virtual Frames
Virtual artworks presented side by side give an idea of scale and the impact of each piece in a room.
Frame options include a variety of natural woods such as cherry, ash, and walnut as well as clean painted frames. These are available with and without matting. You can also choose floating frames for thick canvases.
These framing options add a nice extra touch to enhance the virtual expo's realistic quality.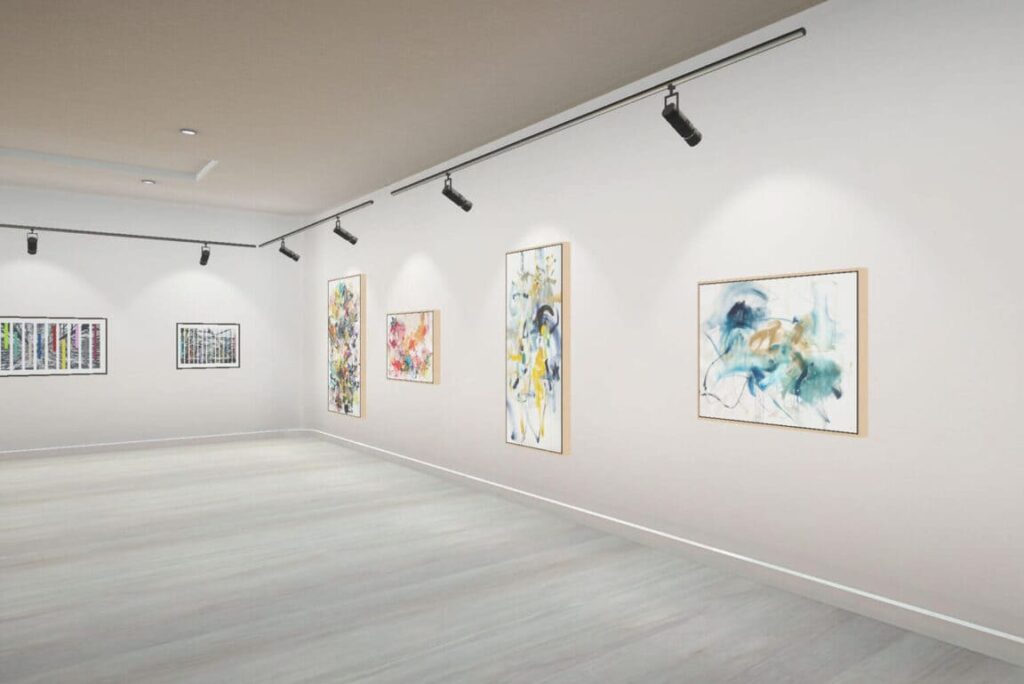 Easily host and share
The online exhibitions can be easily hosted on your site or shared via a link with collectors and colleagues. You can take a look at these two beautiful shows hosted on different websites: Isolation Chronicles curated by Sergio Gomez & Figments curated by artist Leslie Kell and hosted by Artsy Shark. No need to download any third-party apps to make it work.
Let us know what you think
An online art expo is an effective way to present the talent of the artists, viewable by a global audience and open 24/7.
We'd love to hear your thoughts and see if ArtPlacer Virtual Exhibitions excite you as much as us and the entire ArtPlacer team!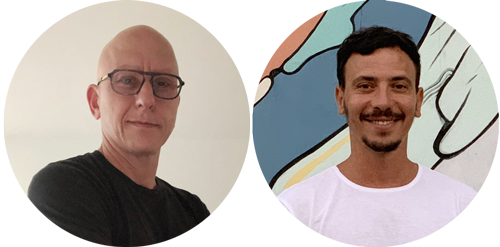 Nicolas Michael & Martin Zaleski, co-founders.